Whether you're starting to save or well on your way, here are some steps you can take to help you make the most of your money.
Put a spring in your step – make the most of tax relief
Saving into a pension is one of the most tax-efficient ways you can save. But it's something many of us don't know much about.
"We carried out research last year and 40% of people said they weren't aware of it," says David Downie, one of our pension tax experts at Standard Life.
It means that every £100 contribution into your pension pot costs you just £80 if you're a basic-rate taxpayer paying 20% tax.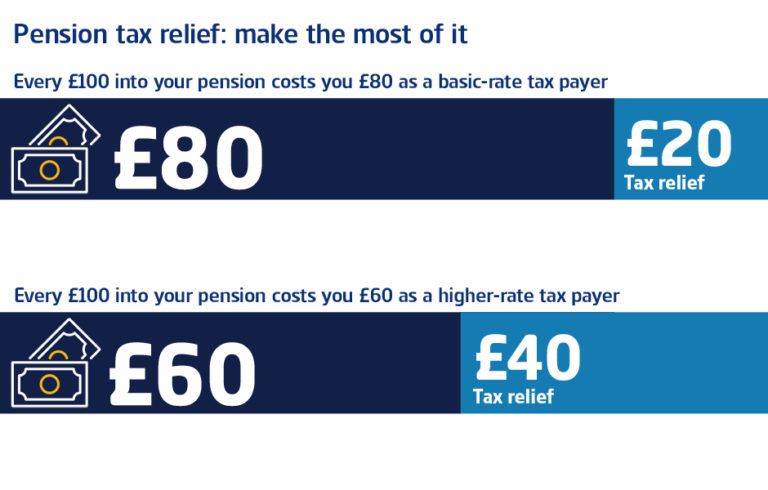 If you're a higher-rate tax payer, £100 into your pension could cost you just £60, or £55 if you're an additional rate taxpayer on an income of more than £150,000 and paying 45% tax. You do usually need to claim this extra level of tax relief through your tax return.
And if you're eligible to join a workplace pension your employer also pays into it. It can all add up nicely.
(Please note that different tax rates are likely to apply in Scotland from April 2018.)
Your pension is all about long-term return on your money
Your contributions into your pension are usually used to buy investments such as stocks and shares. And there are further tax breaks which mean that your pension provider doesn't have to pay tax on these investments. This provides the potential for your money to grow tax efficiently.
The stock market does experience peaks and troughs, so thinking long-term will give your investments the chance to even out any ups and downs.
Of course, the value of your pension can go down as well as up, and you could get back less than you paid in.
Keep an eye on your progress
Once you're further along the savings path, check your progress to make sure you're on track for the future you have in mind. It will give you time to make changes, perhaps by saving a bit more.
Our retirement calculator shows you what you might need to think about when you're saving.
After all, life after work should be a time when you enjoy putting all your plans into action.
For peace of mind that you'll have money to last you as long as you might need it, think about what you'll need money for, including things like holidays or a car, as well as bills.
You might want to save enough to leave something to your loved ones too.
Look at the bigger picture
Once you've estimated all your likely expenses, think about where you might get other income from.
If you have other pensions, it could make your finances easier to manage if you combine them into one, but bear in mind it's not right for everyone. Do check if you've any special guarantees or benefits you wouldn't want to lose.
And then there's the State Pension
The State Pension is an important part of many people's retirement income, but the age when you get it is rising.
Knowing when you might get it helps you plan with more certainty. A 50-year old today can expect to get it in 2033 when they reach 67, but that could change.
It's currently worth over £8,000 a year but not everyone gets the full amount – you need to have 35 years of national insurance contributions.
Why not check your State Pension age on Gov.uk so that you can plan ahead?
Bringing it together in three simple steps
As you'll see, there are easy ways to help make the most of your savings.
If you're in a position to kick off your savings journey early, then do
If you're a little further down the line: take time out to review your progress
You're almost there: consider your retirement options, get informed and choose what's right for you
Where to find out more
Find out more about your retirement options on standardlife.co.uk
Taking professional advice can often make a real difference. If you have an adviser, it's worth discussing your options. If you don't have an adviser, you can find one at unbiased.co.uk or find out about our financial planning arm, 1825. Please be aware there is a cost for advice.
The information here is based on our understanding in February 2018 and should not be regarded as financial advice. Your own circumstances will have an impact on tax, and tax and legislation may change.