If you've gathered a few pension plans over your career, it can be tricky to keep on top of what you have. It's usually possible to combine your pension plans into one pot, but there are things to consider. Here we take you through the pros and cons of pension consolidation to help you decide if it's right for you.
More than 10 million people have been signed up for a workplace pension since the start of automatic enrolment in 2012. Importantly, this means more than 10 million people are saving for their future with their employer chipping in too.

However, with the average person in the UK changing jobs every five years, it also means a lot of us will be trying to keep track of several different pension plans. This is where pension consolidation could help to simplify things.
What is pension consolidation?
Pension consolidation is when you bring all (or some) of your pension pots together and combine them into one pot.

Throughout your working life it's likely that you'll work for a number of different employers, and each new employer is obligated to provide you with a workplace pension plan and pay into it on your behalf. You might have also started personal pension plans for yourself, particularly if you've been self-employed at some point. This means you could end up with a number of different pension plans with a few different providers.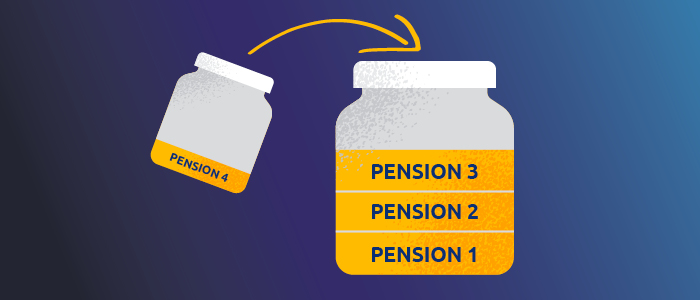 Benefits of combining your pensions
Lower charges
Every pension plan has its own set of charges and you may find that you can save some money by only having one set of fees. A good starting point is to contact your pension providers or carefully check your statements to see what kind of annual charge you're paying.

If you have a few pension plans, including some older ones that you may not have checked for some time, it's a good idea to review the charges. Higher charges can eat away at any investment returns.
Keep things simple
Having several pension plans may mean you have more paperwork to keep track of. Every time you change address, for example, you'll need to let all of your pension providers know.

Every time you want to know the current value of your plan, you'll have to use different log-ins to access those different values. You may also have a range of different investments that you'll need to review and make decisions about. It can be hard to keep track of how your investments are performing when they're all in different places. You'll also have to let each provider know individually about where you'd like them to consider paying any death benefits.

Moving everything into one plan could help to simplify your retirement plans.
More flexibility
Pensions have changed over the years and now different types of pension plans offer different things. For example, modern flexible pension plans can offer benefits that older plans don't - like flexible drawdown of your pension pot, or access to an income for your loved ones on your death. If these options are important to you, it's a good idea to check with your provider that they can offer them.
More opportunities
Bringing all your pension plans together through pension transfers could increase the value of your overall savings, which means you might be able to get a discount for having a bigger pot.

Combining your pension savings could also mean you get access to a wider range of investment funds. Some of these funds could be better suited to your needs and give your pension savings more opportunity to grow over time, although that's not guaranteed.

Remember the value of investments can go down as well as up and you may get back less than was paid in.
Easier to plan for the future
A big part of planning for your retirement is understanding what you've got and what you need. Having everything in one place makes it easier to check your plan's value and quickly see if you're on track to meet your goals. It also makes it easier to understand what your retirement options are.
Reasons why you might not want to combine your pensions
If you have any defined benefit pension plans or other guarantees
Some of your existing pension plans might come with special benefits and guarantees that you would be giving up if you transferred your pension savings to a different scheme and this couldn't be reversed. For example, some 'defined benefit' or 'final salary' pensions entitle you to a certain level of income in your retirement. Or older pension plans may have valuable guaranteed annuity rates.

These types of plans aren't generally offered anymore, so this is less likely to affect you if you started working in the '90s or later. But if you do have a pension plan like this, you may not want to transfer it as you could lose money by transferring. If you are transferring out of a defined benefit or final salary scheme worth more than £30,000, you have to get financial advice first. There's likely to be a cost of this.

The way to find out what you could be giving up if you move is to check with your pension providers or your previous employer. You can read more about what to check for on our pension transfer page.
There could be penalties for transferring
It's important to check to see if transferring your pension plan means you'll end up paying penalties.

If you're not sure, a financial adviser should be able to look into this for you. They may be able to find out if there's any way any penalties can be removed.
Check for charges and choices
Just as you might be able to get cheaper charges and more investment choices by transferring, the opposite can be true too. There's no guarantee you'll be better off as a result of transferring.

So, if you're unsure whether it's right for you, you should get some financial advice. In some cases, you may have to take professional advice before you move a pension plan, to make sure you understand all the implications. If you don't already have an adviser, unbiased.co.uk can help you to find one in your area. It's likely there will be a charge for advice.
Is combining pensions right for you?
Most providers now let you transfer pension plans online, which makes things a bit easier. Usually all that you need is the name of your pension provider, your pension plan number and an approximate value. All of these should be on a recent statement.
Bringing your pensions to Standard Life
If you think combining your pension plans is right for you, why not bring them together into one with us? It takes as little as five minutes to apply online and could help you feel more in control of your future. Here's how:
We won't charge you to bring your pensions together
Easily access your money from age 55 (age 57 from 2028)
Start, stop or change your payments at any time
Manage your money online or on our app
If you're already a Standard Life customer, you can usually combine your plans quickly and easily online, or via the Standard Life app.

The information here is based on our understanding in August 2022 and shouldn't be taken as financial advice