Is two better than one when it comes to retirement planning? Planning for retirement as a couple can be quite different to planning as an individual. We take you through some important things to think about so you can confidently plan for your future, whatever your situation.
How you save for retirement
The reality is: retirement is more expensive for single people. Although couples will need to save more overall to fund their retirement, individually they'll need to save less than a single person would.

If you're saving as a couple, you can look at your finances as a whole – and it's not just the luxury of two salaries you have on your side. You can also see who gets better pension benefits at work, who gets paid more or who could afford to pay a little more into their pension plan at different times. And you can work all of that into your plans and use it to your advantage.

If you're saving for just yourself, you may not have options like this – you've only got your own income and benefits to rely on. So you'll need to be really clear on what your goals are to make sure you're saving enough to reach them. Saving for retirement might also need to be made more of a priority throughout your life. For example, when choosing a new employer, the kind of pension benefits they offer might hold more weight. Or the portion of your budget you've assigned for savings might need to skew a bit more towards your future.
How much you'll need to save for retirement
The amount you'll need in retirement really depends on two things: how many people your savings need to provide for and the kind of lifestyle you'd like to have.

The Retirement Living Standards can be used as a useful guideline for this. They give you an estimate of how much you'd need in retirement to pay for three different lifestyles: comfortable, moderate and minimum. They also give different amounts depending on whether you're saving as an individual or a couple.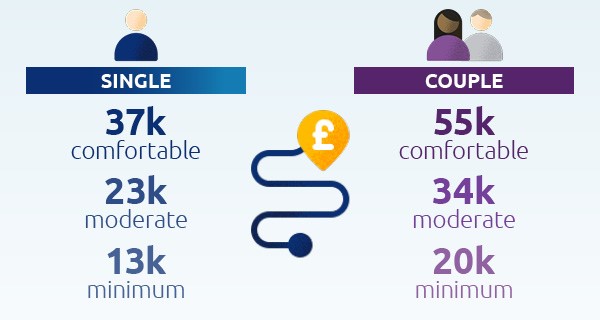 For example, a 'minimum' lifestyle in retirement would cover all your basic needs with a little left over for fun. You wouldn't have a car or be going on holidays outside of the UK, but you'd have enough to cover a basic food and eating-out budget, some home maintenance, and the odd update to your wardrobe.

On the other hand, if you aimed for a 'comfortable' lifestyle, you'd be able to afford three weeks in Europe every year, a new kitchen every 10-15 years, a car and more generous budgets for birthdays, food and clothing.
How you'll take your money
When the time comes to take your money, whether you're in a couple or not could impact which retirement option will suit your needs better.

Maybe it's about the income: do you want something flexible like pension drawdown where you can adjust how much you're taking as your needs change? Or do you want the certainty the comes with an annuity, so you have that extra assurance that you'll always be able to cover your needs?

Or maybe it's about how easily you'll be able to pass on your money. If you're in a couple, it might be important to you to be able to pass on your pension savings to your partner.

Most annuities will stop paying income when you die and you won't be able to pass it on – unless it's on a joint-life basis or has a guarantee period. But it's easier to pass on your pension pot if you've chosen pension drawdown.

Either way, if you're in a couple, it'll most likely be something you agree on together to make sure your individual needs are met, and that you're making the most of both pension pots. You'll need to make sure you consider which option will work best with your different hobbies, spending habits and lifestyles.

If you're a single person, you only need to think about you. You get to choose the option that works best for you without having to take anyone else's needs into account.
Ready to start planning?
Now that you understand the differences, it could be a good time to create your retirement plan. Try our five-step guide to retirement planning to get started.

The information here is based on our understanding in November 2023 and shouldn't be taken as financial advice.

A pension is a long-term investment. Its value can go down as well as up and could be worth less than was paid in.