Early retirement. It's a dream for many people who want the freedom to stop work and do what they want, when they want – confident they'll have the money to make it happen.
But what does early retirement mean? Well, everyone has different ideas about the age they're aiming for. According to the Telegraph the "ideal retirement age" for many people is… 56.
Then there are people like our 20-something MoneyPlus colleague Zac Mazs who wants to stop work in his 40s, and already has some ideas of how he might do that. And he has to consider that could mean needing to fund 30, 40 years or more after that – and possibly more if he lives longer.
He likes the ideas of the FIRE movement – that's Financial Independence, Retire Early – which suggests saving as hard as you can as early as you can to achieve your financial freedom sooner.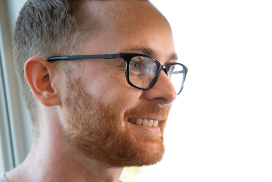 And recently, when we asked some of our customers approaching retirement what they wanted to know, more than half said it was to understand how they could retire early.
One thing is for sure, you definitely won't be able to rely on the State Pension, as the age at which you're eligible for it is due to go up from 65 to 66 this autumn.
Start with what your ideal future looks like
Is it finishing work by 56? Choosing to go part time? Or perhaps kicking back even sooner? Do you dream of moving to a new home by the sea or setting up your own business?
The Wise Monkey Blog features a great talk from TEDX suggesting you draw your future plans – yes, on paper or on a flipchart – to make it easier to really think about what it is you want.
Basically, make a plan and then you can act on it.
When the Pensions and Lifetime Savings Association (PLSA) asked people last year about how confident they felt about saving for the kind of life they want later on, 80% admitted they weren't.
How much money might you need to make it happen?
It depends on what you have in mind.
When the Pensions and Lifetime Savings Association (PLSA) asked people last year about how confident they felt about saving for the kind of life they want later on, 80% said they weren't.
The PLSA Retirement Living Standards published last autumn go a long way to explaining what a typical lifestyle costs – from getting by to enjoying some luxuries and financial freedom.
£15,700 a year would mean a couple could have short holiday breaks in the UK, a budget of £10 for birthday presents, but no car.
Here are some typical costs which the PLSA announced last autumn – of course it's going to be slightly different for everyone.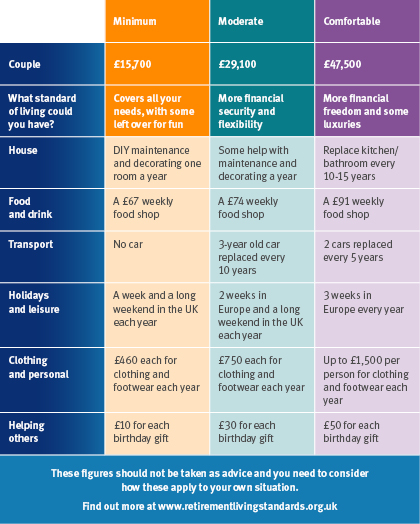 Compare that to £29,100 a year, which would let a couple enjoy two weeks in Europe and upgrade a three-year-old car every 10 years.
And if you were lucky enough to have a comfortable income of £47,500 a year? That could cover a three-week European holiday, upgrading two cars every five years and a new kitchen or bathroom every 10-15 years.
Source: www.retirementlivingstandards.org.uk (These are current figures and are for guidance only. They don't take into account higher London living costs, or inflation, and will vary depending on your circumstances.)
How do you save for it?
So if that gives you a pretty good idea of how much you might need, how can you make sure you're on track to get there?
A mix of savings is likely to help. That could include your pension, ISAs (Individual Savings Accounts), bank account savings and even equity release from your home when you reach your mid-50s – plus any other income, including rental income.
Your pension
Contributing to a pension, particularly if you have a workplace pension with contributions from your employer, is a tax-efficient way to save for the future. And it costs less than you might think thanks to tax relief and the employer contributions.
So it makes sense to save as much as you can comfortably afford in to your workplace pension, and consider paying in more when you get a pay rise or a bonus.
Bear in mind that you can't normally access your pension savings until you're 55 (you don't have to take them then – you can leave them untouched) and this age could change in future. And as pensions are an investment, the value can go down as well as up – you could get back less than was paid in.
What you can do:
Find out more about your pension by logging in online and checking how it's doing.
Boost your pension savings by paying in a little more each month. A small increase can make a big difference over the longer term.
Have a look at the Which guide to pensions. It explains what workplace and personal pensions are – and how they work. And it covers the State Pension too.
Consider taking financial advice if you're unsure about your options. If you don't have your own adviser, you can find one in your area at unbiased.co.uk. Alternatively, you can visit the Standard Life website for more information about financial advice or 1825, Financial Planning from Standard Life.* Please note there's usually a charge for getting advice.
Consider other savings
Unlike a pension, ISAs are virtually tax free when you take your money out, you don't have to wait until 55 to take ISA savings. So they could help you bridge the gap until you're ready to access your pension savings from age 55 or you get your State Pension.
With Cash ISAs you get a bit of interest added and they're generally secure. With Stocks & Shares ISAs, your money is invested, so there's more potential for growth but the value can go down as well as up and you could get back less than you paid in.
The end goal: Having both pensions and ISAs can help give you a tax-efficient income in retirement – and ISAs are one way you can bridge the gap until you're ready to take your pension money. Bear in mind tax rules can change in the future and depend on your circumstances.
Why keeping your savings in a storage tin is probably not a good idea
Consider giving your savings, whatever type they are, the chance to outpace inflation. That's simply the rate of change in prices for goods and services over time. For example, something that cost £10 in 1990 would now cost £22.90.
As for any idea of keeping your savings in a jar in the kitchen, the Metro newspaper reported in January that a lady from the west of Scotland kept her £20,000 life savings in old Bisto gravy tins. Her family threw them out by mistake.
Luckily there was a happy ending when the tins were recovered. But on the flipside that money is worth less and less every year when you take inflation into account.
Try this: The Bank of England inflation calculator lets you check how prices in the UK have changed over time.
Full-on retirement not in your plans?
There's no longer a hard and fast age at which you have to retire and not everyone wants to retire early of course.
Britain's oldest doctor, Bill Frankland, was still working part time last year at the incredible age of 107. Amazingly, he was born a month before The Titanic sank in 1912.
It's not for everyone, but having the savings to let you live life however you want is what it's all about.
* 1825 is a trading name for the Standard Life Aberdeen group's advice business.
Pensions and Stocks and Shares ISAs are investments. They can go down as well as up in value and you could get back less than was paid in.
Tax rules and legislation may change and your individual circumstances will have an impact on the tax you pay.
The information here is based on our understanding in February 2020 and should not be taken as financial advice. If you're unsure please speak to a financial adviser. There is likely to be a charge for this.
Standard Life accepts no responsibility for the information contained in the websites referred to in this article. These are provided for general information only.