The big money milestones can come thick and fast in life, and for many of us it's about striking the right balance between funding short-term goals and putting money aside for those longer-term plans.
For most people financial responsibilities kick in quickly in their 20s. A recent survey claimed the average Briton doesn't reach financial maturity and fully take control of their money until the age of 31. Yet, by the end of their 40s many people will have bought a house, started a family, reached their earning peak and made plans for life after work.
Saving for shifting priorities
Most of us will be planning and saving for something whatever age and stage we're at, but our customer surveys show how much our savings priorities shift over time.
Those aged 25-34 say the biggest financial pressure they have is paying rent or a mortgage, followed by saving for a big purchase. For 35 to 44-year-olds it has shifted to saving for retirement, followed by paying a rent or mortgage and then providing for the family.
Of course, the upheaval caused by coronavirus may have changed your immediate financial plans and priorities. You'll find lots of articles with support and guidance about how your pension and investments might be affected on our Covid-19 Support page.
While we all may be working together to help keep the virus in check, there's a huge range in how the lockdown will affect us all financially, from those facing difficult times being out of work or furloughed to those who may be working from home, spending less and finding they have some extra money to save.
Horses for courses
Whatever you're saving for, how much you'll need and when you'll need the money will be different. So it's a smart move to have a good mix in how you're saving and investing your money – 'horses for courses' as the saying goes.
Pension plans and ISAs (Individual Savings Accounts) are both tax-efficient ways to save and can work well together to meet different needs.
What's a pension plan for?
A pension plan can be a great, tax-efficient way to save for your future. These days employers usually have to set up a workplace pension and chip in with payments too – for most schemes this is at least 3 per cent of your salary while you pay in 5 per cent.
Not only that, you get tax relief on what you save too – you can find out more about how that works and how much you get by listening to our simple Q&A.
Your money is invested to give it a chance to grow over time, although this means its value can go down as well as up, and it may be worth less than was paid in.
Usually you can access money from a modern, flexible pension from 55 (though this age may change in future). But it's up to you when and how you take your money. Some people take their money but keep working, others take some or all of it and retire and others leave their pension savings untouched – or a mix. Starting to take money from your pension may reduce how much you can save in future, so do get financial advice if you're unsure. There's likely to be a cost for this.
Find out What's so good about a pension plan? in our article.
You can check if your pension investments are on track using our simple pension calculator, and if you're a Standard Life customer and you're not already benefiting from online servicing you can register here.
What's an ISA for?
Chances are you'll have some savings goals you'd like to hit long before retiring.
You might want some 'rainy day' savings to cover the unexpected – something we'll all be very conscious of at the moment.
Or perhaps you're planning something bigger like taking a holiday when you can or there's a family wedding coming up. The tax efficiency and flexibility ISAs offer can make them a great way to save for this kind of spend.
There are Cash ISAs, which let you earn a bit of interest on top of your savings, and usually allow you quick access to your money. Or for longer-term goals – generally five years or more – there are Stocks & Shares ISAs where your money is invested. This video explains how Stocks & Shares ISAs work.
There are different types of ISA available, which are designed for different saving goals. For example, the Lifetime ISA can be used to save towards your first home or for retirement. You can find out more on the government's Lifetime ISA page. Or, if you're saving for children, a Junior ISA might be suitable. You can find out more about Junior ISAs and some of the other options available on the Money Advice Service's website.
Compare pensions and ISAs at a glance
Still wondering about the best place for your money? Take a look at our at-a-glance guide to check what both pension plans and Stocks & Shares ISAs can offer.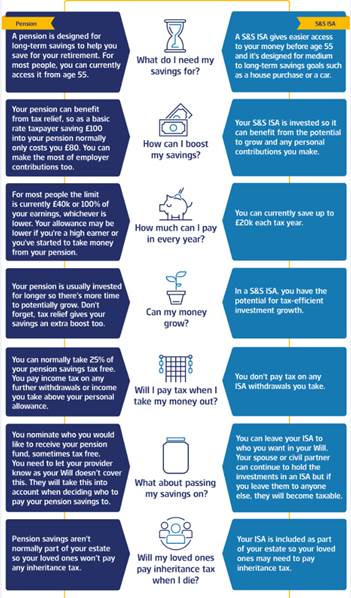 There's a lot to think about so it might be worth considering taking professional financial advice before making any decision. If you don't have your own adviser, you can find one in your area at unbiased.co.uk. There's usually a charge for getting advice.
Pension plans and Stocks and Shares ISAs are investments. They can go down as well as up in value and you could get back less than was paid in.

Tax rules and legislation may change and your individual circumstances and where you live in the UK will have an impact on the tax you pay.

The information here is based on our understanding in June 2020 and should not be taken as financial advice.

Standard Life accepts no responsibility for information in external websites. These are provided for general information.