Do you know how much money you'll need to save for the retirement lifestyle you want? The Pensions and Lifetime Savings Association's newly updated Retirement Living Standards can help you understand the costs. And we have some tips to help you save the amount you need.
We all know it's smart to have a solid plan to pay for life after work. But if you're just starting out, retirement can seem a long way off. And when you're paying into a pension plan, it's hard to know if you're saving enough and hard to predict how long you'll need your pot to last.
Newly updated guidelines from the Pensions and Lifetime Savings Association (PLSA) make one aspect much clearer – the cost of life in retirement. The Retirement Living Standards are a rule of thumb for retirement spending, setting out concrete examples of what retirement could look like at three different levels of lifestyle – minimum, moderate and comfortable.
First released two years ago, the standards have been updated for the first time and reflect how expectations have changed after experiencing life in lockdown.
How the standards work
Developed and maintained by Loughborough University, they describe the cost of three different baskets of goods and services, reflecting what the public considers realistic and relevant expectations for retirement living.
These baskets comprise household bills, food and drink, transport, holidays and leisure, clothing and going out. Post-Covid changes include more money for eating out, a higher personal grooming budget and a Netflix subscription.
What lifestyle do you want in retirement?
You can find much more detail on the Retirement Living Standards website but here's a summary of what each level would cover and how much you'll need as a single person or a couple to pay for it.
Minimum Retirement Living Standard
This covers all a retiree's basic needs plus enough for some fun including a week's holiday in the UK and eating out about once a month, but doesn't budget for running a car.
The cost of this minimum standard lifestyle is now £10,900 for a single person and £16,700 for a couple, up £700 and £1000 respectively from 2019.
Moderate Retirement Living Standard
In addition to the minimum lifestyle, this level provides more financial security and more flexibility. For example, you could have a two-week holiday in Europe and eat out a few times a month.
The annual budget for the moderate standard is now £20,800 for a single person and £30,600 for a couple, up £600 and £1,500 respectively from 2019.
According to the PLSA's analysis, around half of single employees are on track to expect a lifestyle between the minimum and moderate levels. Couples, who are able to share costs, will be closer to the moderate level.
Comfortable Retirement Living Standard
Retirees can expect to enjoy some luxuries like regular beauty treatments, theatre trips and three weeks holiday in Europe a year at this level.
The annual budget needed for a comfortable retirement living standard is £33,600 for a single person and £49,700 for a couple, up £600 and £2,200 respectively since 2019.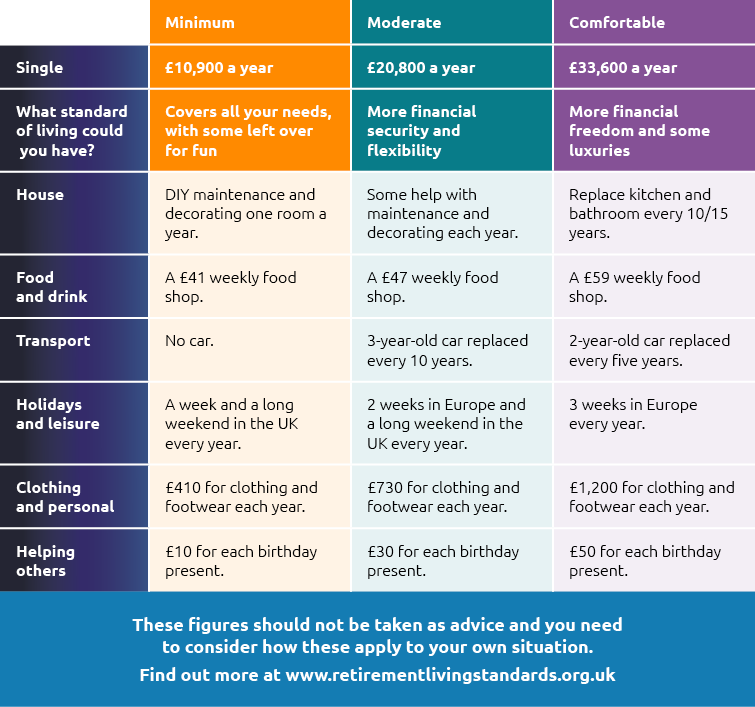 Cost and what's covered for a single person at each level. Similar figures are available for couples too. Table source: PLSA
Nigel Peaple, Director of Policy and Advocacy, PLSA said: "We hope the updated standards will encourage people to think about whether they are saving enough for the retirement lifestyle they want and, in particular, whether they are making the most of the employer contributions on offer in their workplace pension.
"The lockdowns caused by the pandemic have given many workers a foretaste of being retired and made people think about the activities and experiences they truly value. The pandemic has emphasised the importance of economic security as well as social and cultural participation in retirement."
The Standard Life retirement income tool, available to pension customers through our mobile app or by logging in to your pension dashboard, uses these new guidelines to help give you an insight into the retirement income and lifestyle you're on track for, then lets you explore how you can change it.
Now you know the cost, how can you save enough to pay for it?
Knowing what you might need to fund your retirement can help you set a goal, and this is a really helpful starting point. But whatever standard of living you aspire to later, you have to plan and save for it now.
You can check how much State Pension you can expect to receive, but bear in mind that even the full amount would be less than a minimum wage salary and you won't be eligible to take it until the age of 66. This will rise again to 67 between 2026 and 2028.
One of the best ways to save for retirement can be saving as much as you can afford into your pension pot throughout your working life because of the tax benefits pension plans offer and the contributions your employer will make.
Just paying in the minimum required is unlikely to be enough to get that comfortable retirement so here are some simple steps you can take to help get your pension on track:
More help is available if retirement's on your radar
If you're a Standard Life customer and you're starting to think about retirement, you can join one of our retirement planning webinars. In 45 minutes we'll talk you through the key things to consider when preparing for retirement and give you the opportunity to ask questions to a panel of experts at our live Q&A. Find out more and register on our Retirement Webinar web page.
You may also want to consider getting professional financial advice to help you create a full financial picture. There would likely be a charge for this. If you don't have an adviser already you can find one local to you at Unbiased.
Your own personal circumstances, including where you live in the UK, will have an impact on the tax you pay. Laws and tax rules may change in the future.
The information here is based on our understanding in November 2021 and shouldn't be taken as financial advice.
Standard Life accepts no responsibility for information contained on external websites. This is for general information only.