It's that time of year when we look back on 2019 – what tips and ideas we can take into… not just a new year, but a new decade.
And what better way than to ring some festive bells with a few baubles that many of you particularly liked over the past year, from helping you understand smart ways to take your pension savings to guidance on the State Pension and what it could mean for you.
Then there are ways to pass on wealth to younger family members and the difference between saving into a pension and a stocks and shares ISA – they're both investments that can go down as well as up in value and you could get back less than was paid in, but there are important differences too.
We've enjoyed sharing these – and more – with you, but you might have missed a couple, so cosy up and read on.
When will you get your State Pension?
Christmas hopefully means some time off and a break from the old routine so why not use some of that time off to find out what you can expect from your State Pension, and when? [LINK]

This article was our most popular in 2019: no wonder, when you have all the facts, you can plan better for your future.

In 2019 the full 'new' State Pension rose to £168.60 a week – but not everyone actually gets the full amount, so it pays to find out what it could mean for you.

When you get your State Pension is now the same for men and for women at 65, and will increase to 66 by October 2020. Of course this could change in the future, and if it does, we'll keep you posted.

For more guidance on this, take a look at the graphic below, and have another read of our article.[LINK]

Remember, it's easy to check your State Pension forecast. Latest figures show more than 17 million people have already done this at www.gov.uk/check-state-pension.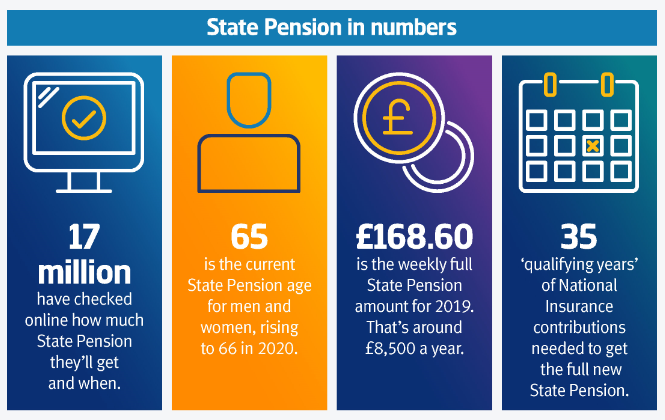 What is the difference between a pension and a stocks and shares ISA?
Our article on the differences between these two ways of saving was another popular one.

After all, choosing the right type of investments for your goals is important. If you're wondering whether an ISA or a pension is right for you, remember, there could well be a place for both.

Take a look below, or read more in our article.[LINK] It explains the main things including tax, inheritance and how ISAs and pensions are treated differently and how much you can pay in every year in a simple and straightforward way.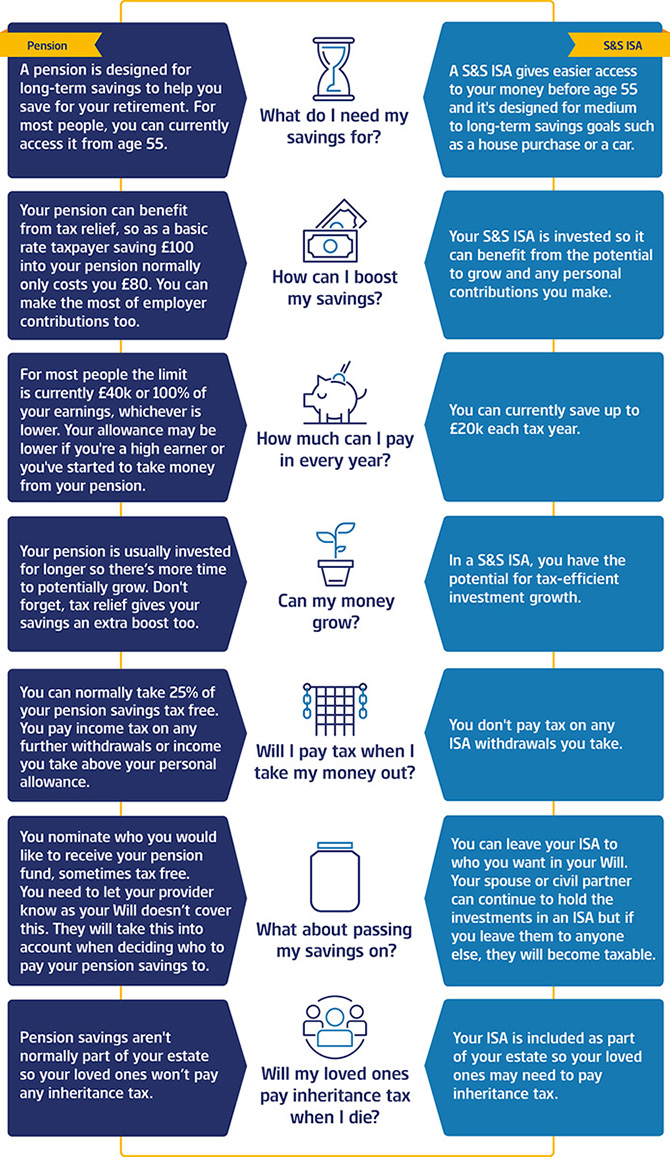 Laws and tax rules may change in the future and your own personal circumstances will have an impact on tax treatment.

Pensions and stocks and shares ISAs are investments. The value of investments can go down as well as up and may be worth less than was paid in.


Will your thoughts be turning to your pension in 2020?
Your hard-earned pension savings are important and when you're thinking of taking your money, it can seem like there's a big bow on top of your pension pot and you can't wait to start unwrapping it.
But as exciting as it is, there is quite a lot to think about.
Many of you read our article in the summer which focuses on those who want to start taking money from their pension soon. [LINK] So that when the time comes, you feel confident you understand your options, how your decisions might affect the tax you pay and how long your money might last.
Now may also be the time for you to think about what sort of lifestyle you'd like to enjoy and how much it could cost. It might be an ideal time to take financial advice on this to help you plan ahead.
If you're considering taking advice and don't have an adviser, you can find one in your area on
unbiased.co.uk.
Or visit our website for more information about
financial advice and 1825, Financial Planning from Standard Life*.
Whatever stage you're at there's plenty more information on our
website
to guide you.
Keeping it in the family
Family is often the main focus at Christmas. So have a read of our feature on the
difference you can make to your grandchildren by sharing your wealth during your lifetime
. [LINK]
With younger generations facing the pressures of rising house prices and university fees – you can really make a difference and enjoy seeing the benefits.
And, just like Christmas, the way you choose to invest in their future can depend on the age of younger family members.
A child's bank account is practical and easy for family and friends to pay money into. These accounts normally pay some interest.
You might want to consider a Junior ISA (JISA) for longer term savings. While you can't open one on their behalf – that's for their parent or guardian – you can give money to pay into it within their annual limit, which is £4,368 for the 2019-20 tax year. Tax-efficient JISAs can be stocks and shares or cash.
Or save into your own ISA for them and that way you keep control and give them money when you choose.
If your grandchild – or your child, of course – is 18-40, a Lifetime ISA (LISA) could help them
save for their first property.
Savers get a bonus of £1 on top of every £4 they save up to £4,000 a year, taking the yearly total up to a maximum of £5,000 if they meet certain criteria and use the savings to buy their first home, or top up their retirement savings.
There are lots of options available, all designed for different needs. And while there's no guarantee that any of them will be suitable for you, it's a great idea to understand the choices you have.
Just think, a well-chosen financial gift now could make a lifetime of difference.
Read more in Grandparental giving:
sharing your wealth and seeing the benefits
.
We hope you've enjoyed the articles we've shared with you in 2019 – we wish you a healthy and prosperous 2020.
Elle Tucker is a freelance journalist working on behalf of Standard Life.
* 1825 is a trading name for the Standard Life Aberdeen group's advice business.

The information here is based on our understanding in December 2019 and should not be taken as financial advice. All articles linked to correct at time of initial publication.

Laws and tax rules may change in the future and your own personal circumstances will have an impact on tax treatment.

Pensions and most ISAs are investments. The value of investments can go down as well as up and may be worth less than was paid in.