How responsible investment aims to make you money without compromising the future
We all want to make responsible choices as more of us are becoming aware of global challenges, such as environmental issues, human rights and climate change.
We're also starting to care more about how our behaviours affect the planet and society.
We're swapping the products we buy to those that are more environmentally friendly, as well as taking more time to consider our own impact on recycling, waste and pollution. That mind-set is also changing the way we invest money.
In the past, ethical funds that excluded certain types of investments, such as tobacco and weapons, were the only choice if we wanted to match our investments to our values. These funds are still popular but they're now joined by a range of other options that let us invest responsibly.
Invested in Better
View our video to understand more on how we are committed to a sustainable future.
What is responsible investment?
Responsible investment is a combination of different approaches to managing money that includes environmental, social and governance (ESG) factors. Investment managers will:
decide what to invest in

look at ESG factors in companies, so they can combine managing risk better while aiming for long-term returns

offer funds with specific ethical, environmental or social goals

encourage better ESG behaviours by using their role as a steward of investments
When we talk about responsible investment, we'll mainly use these two terms: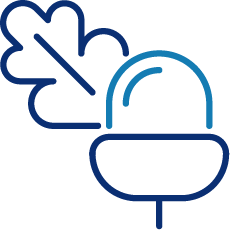 ESG incorporation
Investment managers can include ESG in both how they invest and how they design their individual funds.
ESG integration

A process used to analyse a company's approach to ESG to help spot opportunities and manage risks (can be applied across all funds). This doesn't include screening. So investments which could be seen as negative may still be included.

Screening

Funds that exclude/include investments based on ethics and values (includes ethical funds).

Thematic

Funds aiming to achieve a financial return alongside a specific environmental or social outcome (includes impact funds).
Stewardship
There are two ways investment managers can better understand ESG risks and influence positive change.
Engagement

Talking to companies they invest in about their ESG activities and practices to encourage better policies and conduct in these areas.

Proxy voting

Using voting rights on behalf of investors to encourage good management of matters such as governance, tax practices and climate change.
Standard Life Assurance Limited's approach to responsible investment is based on the United Nations-supported Principles of Responsible Investment (PRI) and the UK Stewardship Code.
How ESG is integrated into your investment choices
When it comes to your investments, we're accountable. That's why it's integrated into our investment options. It's also why we need to understand how our investment managers integrate ESG when building portfolios.
How ESG factors are applied to Standard Life's range of investment options
The following table shows a summary of how ESG factors are applied to our easy investment options and our do-it-yourself investment options. You can find more details below the table.
ESG Incorporation

Stewardship

Integration
Screening
Thematic
Engagement
Proxy voting
Easy investment options:
Sustainable Multi Asset range
(lifestyle profile) *Note 1
-
Sustainable Focus range
(lifestyle profile) *Note 1
-
Passive Core
(lifestyle profile) *Note 2
-
-
-
MyFolio Managed range
(funds and lifestyle profiles which include the funds)
-
-
MyFolio Index range
(funds) *Note 2
-
-
-
Managed Fund
(fund and lifestyle profiles)
-
-
Do-it-yourself investment options:
Sustainable Focus range
(Funds) *Note 5
-
Funds managed by abrdn
*Note 3
-
Funds managed by other external fund managers
*Note 4
*Note 5
*Note 5
*Note 4
*Note 4
Easy investment options
Responsible Investment is central to the investment options we offer you. This includes our Sustainable Multi Asset Universal SLP and other options within our sustainable multi asset range. Sustainable Multi Asset Universal SLP focuses on the areas of responsible investing that we believe can help grow your pension. We avoid investing in companies that could present a risk; for example, those involved in activities such as tobacco production. And we invest more in companies that could provide an opportunity, like those focused on green technology.
The funds in the MyFolio Index ranges and the Passive Core lifestyle profile use some underlying investments that track a market index, so ESG isn't integrated into the selection of individual stocks. But all the passive investment managers we use have established investment stewardship programmes.

Do-it-yourself investment options
We offer a wide range of responsible investment funds that you can use choose from. This includes our Sustainable Focus options, which is a range of five funds rated on a scale of 1 (lowest) and 5 (highest) for risk level, each with its own sustainable element.
With our do-it-yourself options, we expect all of the investment managers we work with to show how they apply responsible investment to their funds.
There may be occasions when this isn't possible, for instance when a passive investment manager has to track a broad market index. Apart from exceptions like this, we would like all the investment managers we work with to:
engage effectively with companies and, when necessary, escalate this engagement to drive better long-term performance from the business as a whole
use the voting rights they have to encourage positive commitments or practices
deliver robust reporting on their ESG engagement activities, including details on the factors they discuss, and any actions or outcomes agreed during these meetings
You can find out more about how Standard Life Assurance Limited incorporates ESG into the insured (pension and life) fund range (0.42 MB).
A choice of screening or thematic approaches
If you want to invest in a way that suits your financial goals and values by avoiding or limiting investment in 'bad' companies, or creating 'good' portfolios through screening or thematic approaches, Standard Life offers a range of funds for you.
You can choose actively managed funds that screen for positive or negative criteria
You can decide to invest in one of our funds that uses positive or negative screening criteria.
Their positive criteria look for companies which are involved in activities that benefit society and the environment. Their negative criteria looks to avoid investment in companies involved in certain industries and practices such as animal testing, climate change impacts and human rights issues.
Find out more about the ethical funds offered by Aberdeen Standard Investments.
You can see the choices that are available in the table below and you can download their factsheets to learn more about each.
You can also invest in passively managed funds that take a different approach
These funds have broad coverage of the market, but exclude investments that don't meet specific socially responsible or religious principles.
You can see what's available in the table and read the factsheets to find out more.

How investment managers use ESG integration to manage risk
If you're looking for something that's relevant in all investments then you'll be looking for ESG integration. This is when investment managers use ESG integration at the same time as all their other financial analysis.
Investment managers look at whether a company's ESG activities and practices are offering investment opportunities or exposing it to risks. They might look at the impact a company has on local communities and climate change, or how they manage their supply chain or natural resources.
On top of their usual research, investment managers will look at these areas:
Environment
An investment manager can look closely at a company's impact on land, sea, air, wildlife, plant life and the climate. They might consider things like how much energy a company uses, waste disposal, land development and carbon footprint.
Social
An investment manager can review a company's relationship with its employees, suppliers and the community where it operates. They might consider things like labour practices, human rights, employee wellbeing, health schemes for staff and supplier relationships.
Governance
An investment manager can look at the issues that might affect a company's management and processes. They might consider things like who's running the company, how the company and its finances are managed, and how it approaches salaries and strategy.
Using stewardship to influence positive change
In its broad sense, stewardship means overseeing or taking care of something. Investment stewardship is no different; it's about engaging with companies to understand all the risks and opportunities they present, to promote their long-term success. Doing this benefits everyone; from the individual company, to its investors, to the economy as a whole.
Active engagement
By regularly talking to companies, investment managers can better understand their strategy, performance, risk, capital structure and corporate governance.
It's a way to spot both opportunities and risks, as well as:
influence positive corporate behaviour
encourage better sustainability, resource efficiency and involvement with society
Proxy voting (casting votes on behalf of investors)
Another way that investment managers can influence change is to use voting rights. That's when they cast votes on behalf of investors on matters such as good governance, climate change, tax practices, labour standards, diversity, bribery and corruption.
Approach to stewardship and engagement
Standard Life Assurance Limited's approach to stewardship is based on:
The UK Stewardship Code 2020
The Financial Conduct Authority's ('FCA's') Policy Statement ('PS') 19/13
The FCA PS outlines how UK firms should implement the European Union's Shareholder Rights Directive II ('EU SRD II'), which came into force in June 2019.
As part of Phoenix Group, the UK's largest long-term savings and retirement business, we have a vital role to play in addressing the biggest challenges of our time. That's why we're putting sustainability at the heart of everything we do. Find out more about our sustainability commitment.
Understand how screening and thematic approaches can reflect your values
You can choose from a range of funds that aim to achieve a financial return alongside a specific ethical, environmental or social outcome. These types of funds are often described as using 'screening' or 'thematic' approaches.
Screening
Funds are screened and have filters applied to rule companies in or out of investments based on objectives, preferences, values or ethics. That could be removing investments that could be seen as negative or seeking those that are trying to make a positive impact.

Thematic
Funds which invest in companies that aim to address a social or environmental issue. For instance, affordable housing, renewable energy solutions or sustainable transport.
This includes impact funds.
If you're looking for a fund to apply screening, focus on a theme, or use a mix of these approaches, you might:
Be looking for funds that invest ethically
These include funds that tend to avoid investing in companies connected to activities like animal testing, tobacco or weapons. Some funds also look for companies which aim to make a positive difference to the environment and society – and some use a combination of negative and positive criteria.
Want to invest in funds that focus on social responsibility
Socially responsible (SRI) funds help you invest in companies which balance business interests with the effect they have on the environment and community.
Need or want funds that align to your faith or religious beliefs
Faith-based funds, for example Shariah investing, align how a fund is invested to certain religious principles of laws.
Be keen to invest in companies that intend to make a positive and measurable contribution to the environment or society
Impact funds invest in companies that aim to achieve a measurable positive social or environmental impact in addition to a financial return.
Next steps
Hopefully you now have a clearer understanding about responsible investment. Knowing more about the options available to you should help you feel more informed about any investment choices you make in the future.
Remember, if you want to know more about how ESG is applied to Standard Life's range of investment options, you can read that further up the page.
If you're still not sure which investment options might be right for you or you need more information, you might want to think about speaking to a financial adviser. There's likely to be a cost for this.
If you don't have an adviser, we can help:
Remember: the value of all investments can go down as well as up, so there's always a possibility you could end up with less than was paid in.