There are billions of pounds lying unclaimed in dormant or lost pension plans. Here's how to find out if any of the money is yours and what you can do about it.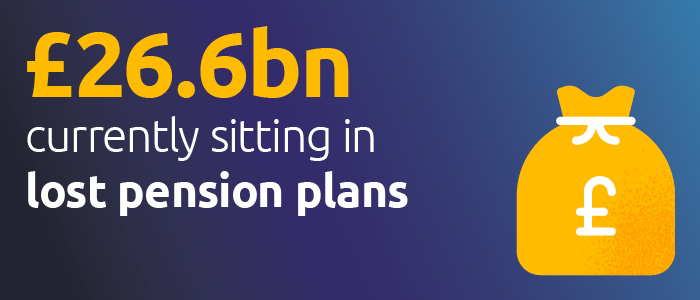 If you've moved house, changed jobs or ever had more than one pension plan, some of the estimated £26.6 billion currently lying in lost or dormant pension pots could be yours.

It's easier to misplace a pension pot than you think and it happens a lot. It is estimated that more than 2.8 million pension plans, worth an average of £9,470, are currently unclaimed. And that looks set to rise with the government predicting that there could be as many as 50 million misplaced pots by 2050.

So, how do all these plans get lost and forgotten? And what can you do about it?
Why are people losing track of pension plans from old jobs?
Well, the good news is that every employer now has to provide most of their workers with a pension plan that both they and their employees pay into. Meaning more than 10 million people have been 'auto-enrolled' since 2012.

The bad news is that many employees don't pay much attention to their workplace pension, or what it's worth. And then, when they leave or change jobs, many forget all about it. It's estimated that the average person in the UK will change jobs every five years – which is a lot of pension pots to keep track of.

Studies have found that only one in 25 people would instinctively think to tell their pension provider when they move home, which means contact details are out of date.
How to trace a pension with a National Insurance number
If you think one or possibly more of these lost or dormant pension pots could be yours, it can be quite straightforward to track them down.

With your National Insurance number, the names and addresses of your previous employers, and some help from the Government's Pension Tracing Service, you should be able to find out everything you need to know.

If it's been some time since you took out the pension plan, you could be in for a nice surprise as it's had the potential to grow in value over the years thanks to potential investment growth and compounding.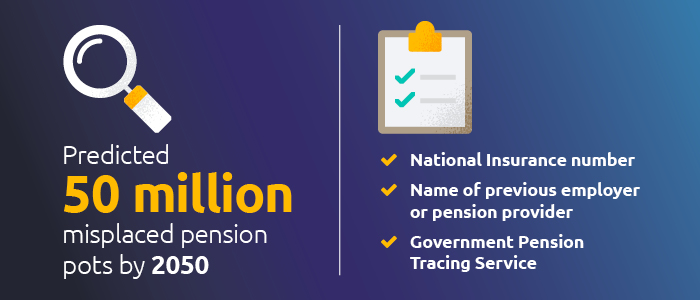 Consider bringing all your pension plans together
If you manage to trace a lost pension plan or if you want to make managing a number of plans easier, you could consider moving older pension plans into your current plan.

Having all your pensions savings in one place can cut down on admin time, as well as potentially reducing the charges you pay.

It might not be right for everyone and there's no guarantee you'll get more as a result of transferring. Some older workplace pension plans might have valuable benefits or guarantees. Check you aren't losing these if you want to transfer them in to your current plan. For example, if you're thinking about moving money out of a final salary (also known as a defined benefit) pension plan, or if you're unsure about your options, you should seek financial advice.

If you don't have a financial adviser, you can find one in your local area at Unbiased. You can check if an adviser has been authorised by the Financial Conduct Authority (FCA) on FCA.org.uk.

A pension plan is an investment, so its value can go down as well as up and it could be worth less than was paid in.

You can read more about the pros and cons of combining your pensions in our recent article.
Bringing your pensions to Standard Life
Tracking down any old pension plans, combining them if that's right for you, and keeping a regular eye on where you are with your retirement savings could help give you peace of mind about your financial future.

Feel more in control with a Standard Life pension.
We won't charge you to bring your pensions together
Easily access your money from age 55 (age 57 from 6 April 2028)
Start, stop or change your payments at any time
Manage your money online or on our app
Getting everything into shape
There are also really useful tools available, like our pension calculator, that make it easy for you to work out what you should be saving today to help make your future tomorrows just as you want them to be.

And the next time you move jobs or change address, take the time to do the little bit of paperwork to make sure you continue to keep track of all your pension plans.
The information here is based on our understanding in November 2022 and shouldn't be taken as financial advice.
Standard Life accepts no responsibility for information in external websites. These are provided for general information.
A pension is an investment and its value can go down as well as up and may be worth less than was paid in.