Coronavirus fears hit global markets
Increasing fear surrounding the coronavirus outbreak has had a significant impact on markets around the world, with many experiencing substantial falls over concerns about the effect on the global economy. As a result, many people's investments, including those they have through pension plans and ISAs, have also taken a hit.

It's likely that the coronavirus will continue to have an impact on markets over the coming months. But major events causing markets to fall, particularly in the short term, is something we've seen time and time again. And it doesn't mean that markets won't recover, so try not to worry too much. Read on to find out more.
Slow and steady wins the investing race
In the old tale about the tortoise and the hare, the moral was that you can be more successful by being slow and steady than quick and hasty. When it comes to investing, slow and steady is also more likely to win the race. In other words, the longer you're invested for, the more likely you are to reap the rewards.

As you can see below, the past 35 years – which is as far back as data for the main UK market index, the FTSE® All-Share Index, goes – have offered exceptional returns for many investors.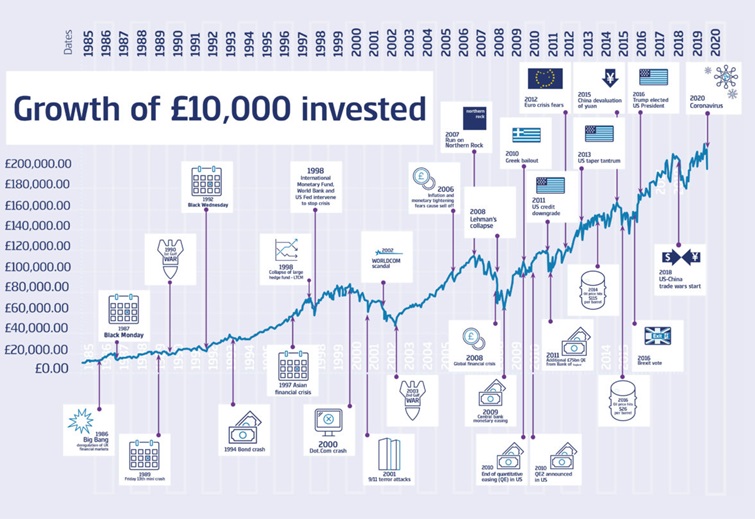 Source: Financial Express. FTSE® All-Share Index, total return with dividends reinvested, from 31 December 1985 to 27 February 2020. These figures don't take into account any charges or the impact of inflation. Figures refer to the past, and past performance isn't a reliable guide to future performance

Market falls have undoubtedly caught out some investors over the years, causing them to panic and sell, losing money in the process. On the other hand, those who've been able to stay the course and hold on to their investments patiently are more likely to be reaping the rewards.

Remember though that investment growth isn't guaranteed – investments can fall in value too. And it's possible that you could get back less than you paid in.
Try to keep calm
It's a very normal reaction to panic when you see the value of your investments fall. But keeping your emotions in check is important.

If you give way to panic and sell, you're likely to be selling after markets have already fallen and, importantly, before they rise again. That means you're locking in losses and will potentially have less money than someone who kept their composure, and their money invested.

Trying to time the markets – in other words selling investments when markets are at a high level and buying when they're at a low level – is extremely hard. Even investment professionals can't always spot falls coming.
Focus on what you can control
While you can't control how markets perform, you can control where you're invested. Periods of market ups and downs (often referred to as volatility) are a valuable reminder of the importance of diversifying – or spreading your money across different types of investments and geographical locations.

If you're only investing in one or two of these then you're exposing yourself to quite a degree of risk. But diversifying across investments and countries can help you reduce the amount of risk you take and potentially get more consistent returns, with fewer ups and downs.
Keep a close eye on your investments
Any important event, wherever it happens in the world, may have an effect on financial markets. That's why it's important to monitor your investments regularly.
If you have a plan with Standard Life, you can do that easily by logging onto
online servicing
.
If you don't have the knowledge or time to review your investments, then think about
options which are managed and overseen by investment professionals for you
.
And if you want to keep up to date with what's happening in global markets, read our
regular market review
.
Finally, our
market volatility Q&A (PDF)
answers some commonly asked questions to help you understand more about market volatility and what your options are.
If you're still not sure what's best for you, you should speak to a financial adviser. There's likely to be a charge for this. If you don't have an adviser, you can find one in your area at
unbiased.co.uk
or visit the Standard Life website for more information about financial advice and 1825, Financial Planning from Standard Life*.
*1825 is a trading name for the Standard life Aberdeen group's advice business.


The value of all investments can go down as well as up and may be worth less than was paid in. Rights in the FTSE® All-Share Index vest in the FTSE International Limited ("FTSE"). "FTSE" is a trade mark of the London Stock Exchange Group companies and is used by FTSE under licence.

The information in this article should not be regarded as financial advice and is based on our understanding in March 2020.