From understanding how much you can save to spending and passing on your money tax efficiently, we take a look at what pensions and Stocks and Shares (S&S) Individual Savings Accounts (ISAs) have to offer when you're investing your savings for the medium to long term (five years or more) – and how they differ.
Investing means your money has the potential to grow but investments can go down as well as up in value – and you could get back less than was paid in.
Our at-a-glance guide shows how pensions and S&S ISAs compare when it comes to making the most of your money and saving tax efficiently.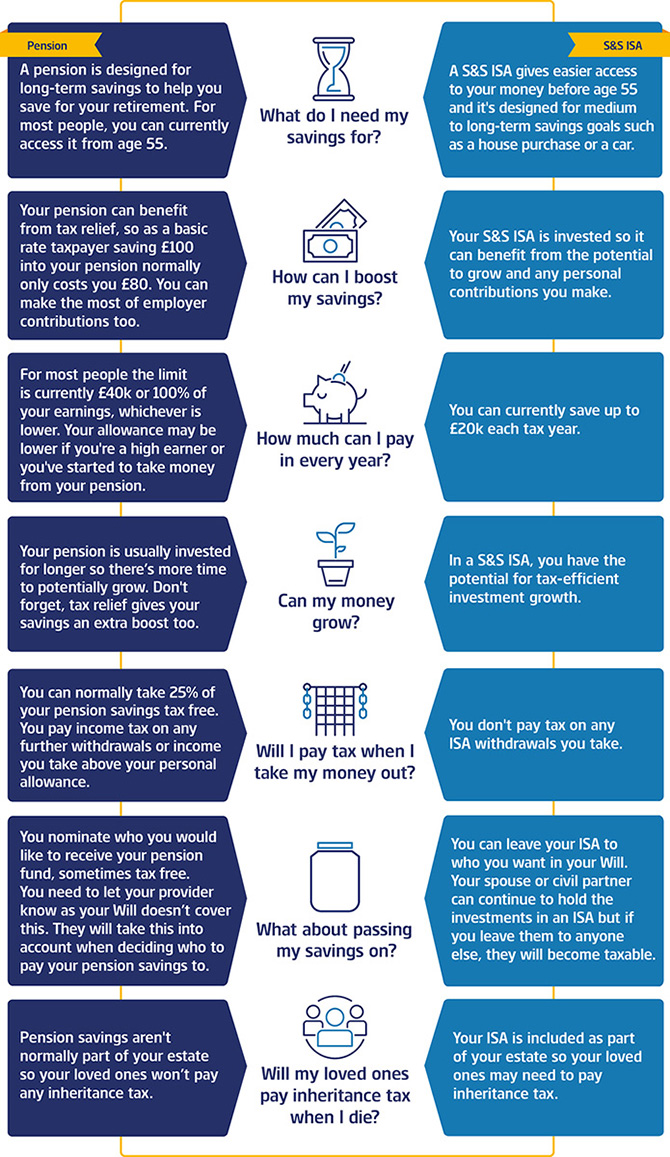 Pensions and ISAs – a place for both
Choosing the right type of investments for you and your life plans is important.
If you're wondering whether to choose a S&S ISA or a pension, or both, it can make sense to talk it through with your adviser if you have one.
Depending on your savings goals, there could be a place for both.
If you want to find out more, read our
guide to investment
.
To get an idea of how your retirement savings are shaping up, use this simple
pension calculator
.
Or try this simple
ISA calculator
to see how much your ISA could be worth in the future.
The information here should not be taken as financial advice. If you need help and don't have an adviser you can find one near you on
unbiased.co.uk
or find out more about 1825, Financial Planning from Standard Life at
standardlife.co.uk/1825
*. There will likely be a cost for advice.
*1825 is a trading name for the Standard Life Aberdeen group's advice business
It's important to note that laws and tax rules may change in the future and your own personal circumstances will have an impact on tax. The information here is correct in August 2019 and shouldn't be taken as financial advice.