It's been a tough year for many businesses, but some employers may still offer the benefit of a bonus to their employees. If you're one of the lucky ones, it might be tempting to have a bit of a splurge and treat yourself – particularly after the year we've had. A new car, some home improvements or optimistically booking a holiday might all be tempting.
But did you know that by paying some or all of your bonus into your pension plan through something called bonus sacrifice, you'll pay less tax and National Insurance (NI) on it? That means you could get to keep more of your bonus, and increase the value of your pension savings.
As your pension savings are invested there is the potential to achieve tax efficient investment growth too, but remember that the value of investments can go down as well as up and you could get back less than was paid in.
The tax benefits of bonus sacrifice – in numbers
Let's have a look at the numbers for Nicola. Nicola is a 35-year-old office manager, earning £40,000 a year. She's due to get a bonus of £8,000 at the end of March.
If she takes all of her bonus in her pay, she'll pay 20% tax on all of it, as well as 12% NI payments (be aware that tax rates are different in Scotland).
But if Nicola opts to use bonus sacrifice to pay all of her bonus into her pension plan, she'll get the full amount of £8,000.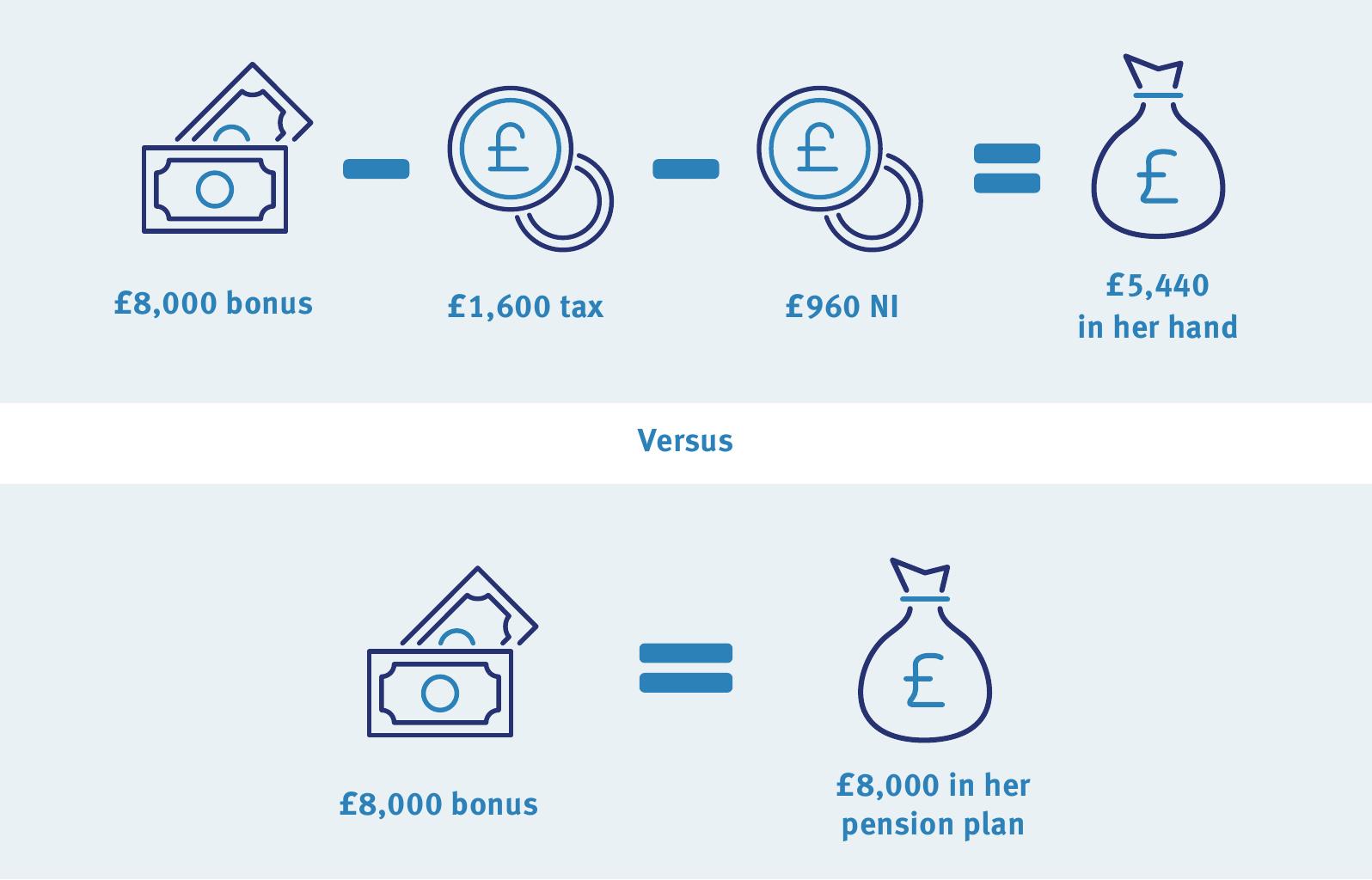 Her employer may also be willing to pass on some of the employer NI payments which may have already been taken from her bonus, which would mean more than £8,000 going into her pension plan.
If you pay tax at the higher or additional rate, your tax savings could be even more, although bear in mind that you pay a lower rate of NI on earnings above £50,000 – 2% rather than 12%.
Tax rules and legislation can change, and personal circumstances and where you live in the UK also have an impact on your tax treatment.
And it's not just a bonus that can give your pension savings a boost
With life being anything but normal this past year, you might have spent a little less than usual. Money that otherwise would have gone on holidays, meals out and birthday parties may have built up nicely and you may now have a decent amount of savings stashed away. So why not treat some of this money like a bonus for your future self and think about investing it into your pension plan?
You won't get the same tax and NI benefits that you do with bonus sacrifice, but generally money invested over longer periods of time could give you better returns than keeping it in a savings account or cash ISA. And with interest rates at an all-time low, you'll also have the opportunity to beat the impact of inflation.
Of course, the value of investments can go down as well as up, and you could get back less than was paid in. Savings accounts aren't exposed to investment risk, so your money is likely to be more secure in a bank account or cash ISA.
The power of compound growth
You can even get additional growth on any investment growth you get from that lump sum. This is thanks to compound growth.
In a nutshell, compound growth is the 'snowballing' effect of receiving growth on growth. It means that each year you have the opportunity to achieve growth, not only on the money you've invested, but also on the growth you might have already experienced.
As an example, let's say you have £100 and invest it. Any growth you get is applied to the £100. In the next year though, any growth is applied not only to your original £100, but also to the investment growth that you achieved from that £100. This happens year on year and every year the impact is slowly magnified.
This difference may be small over one year but, given time, compounding can build up significantly. And over longer time periods, it could make a significant difference to the value of your investment, although that's not guaranteed.
So, paying a lump sum into your plan, on top of your regular monthly contributions, could boost its value. And, you don't pay tax on any of that potential growth while your pension plan is still invested – you only pay tax when you come to take money from it.
Want more information or guidance?
Not all employers offer bonus sacrifice – so do check. And check too that paying into your pension plan won't take you over your annual allowance. Read our tax guides to see if this could affect you.
If you're not sure if bonus sacrifice is the right thing for you, or you want to understand more about the tax implications, you might want to get advice. There's likely to be a charge for this. If you don't have an adviser, you can find one local to you at unbiased.co.uk.
You can also get free impartial guidance from Pension Wise if you're aged 50 or over. Go to pensionwise.gov.uk or call 0800 138 3944. It's important to shop around and compare providers to get the best deal for you. Find out more at pensionwise.gov.uk/shop-around
The information here is based on our understanding in March 2021 and shouldn't be taken as financial advice.