If your employer offers the benefit of a bonus, it can be tempting to have a bit of a splurge and do something like buy a new car, book a fabulous holiday or make some home improvements. And there's nothing wrong with doing that.
But did you know that by paying some or all of your bonus into your pension through something called bonus sacrifice, you'll pay less tax and National Insurance (NI) on your bonus, and you could also increase the value of your pension in the future through tax-efficient investment growth. All that means you get to keep more of your bonus and have the potential to increase the value of your pension savings at the same time. Remember that the value of investments can go down as well as up and you could get back less than was paid in.
The tax benefits of bonus sacrifice – in numbers
Let's have a look at the numbers for Kirsty. Kirsty is a 35-year-old office manager, earning £40,000 a year. She's due to get a bonus of £8,000 at the end of March.
If she takes all of her bonus in her pay, she'll pay 20% tax on all of it, as well as 12% NI payments (be aware that tax rates are different in Scotland).
But if Kirsty opts to use bonus sacrifice to pay all of her bonus into her pension, she'll get the full amount of £8,000.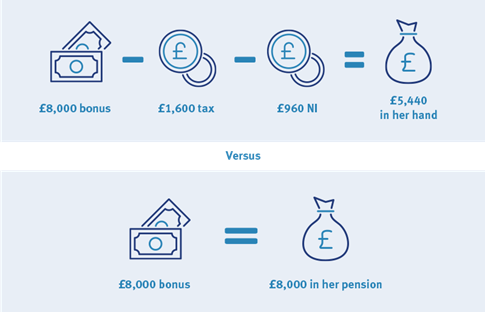 Her employer may also be willing to pass on some of the NI payments they make, which would mean more than £8,000 going into her pension.
If you pay tax at the higher or additional rate, your tax savings could be even more, although bear in mind that you pay a lower rate of NI on earnings above £50,000 – 2% rather than 12%.
The gift that keeps on giving
These tax and NI savings are a great way to make the most of any bonus. And with more going into your pension, you also have the potential for tax-free investment growth on that 'extra' contribution, so it could grow to be worth even more in future.
This is because when you invest your money, you're giving it a chance to grow in value. As it's invested, it can go down as well as up in value and you could get back less than paid in, especially in the short term. But, generally, money invested over longer periods of time will give you better returns than if you put it into a savings account.
Generally the more you pay into your pension and the longer you keep it invested, the more you're likely to have in your pot in the end – as you can see in the image below.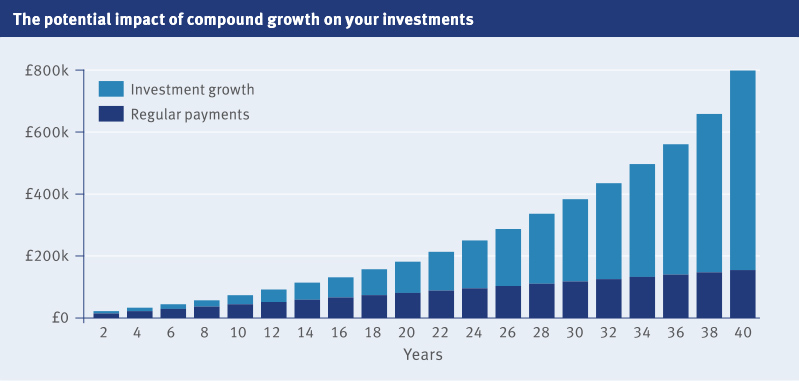 This graph is only to illustrate the potential impact of investing money into your pension over the long term. It's not based on actual figures, and doesn't take account of short-term ups and downs in value.
So, paying your bonus into your pension, on top of your regular monthly payments, could really boost its value. And, you don't pay tax on any of that growth while your pension is still invested – you only pay tax when you come to take money from it.
Want more information or guidance?
Not all employers offer bonus sacrifice – so do check. And check too that paying into your pension won't take you over your annual allowance. Read our tax guides to keep you right.
If you're not sure if bonus sacrifice is the right thing for you, or you want to understand more about the tax implications, you might want to get advice. There's likely to be a charge for this.
If you don't have an adviser, you can find one local to you at unbiased.co.uk. Alternatively, visit our website for more information about financial advice or contact 1825, Financial Planning from Standard Life*.
*1825 is a trading name for the Standard Life Aberdeen group's advice business.
Tax and legislation may change. The information here is based on our understanding in February 2020 and shouldn't be taken as financial advice.
Your own circumstances will have an impact on your tax treatment. A pension is an investment. Its value can go down as well as up, and you could get back less than was paid in.