1. Maximise the tax relief on your pension savings
Your pension plan is one of the most tax-efficient ways to save for your retirement thanks to tax breaks on your contributions – normally at the highest rate of income tax you pay. That means it may cost less than you think to pay more into your pension plan.
And with the tax benefits on pension contributions, if you're a 20% basic-rate taxpayer, every £100 that goes into your pension plan costs you just £80. Higher or additional-rate taxpayers can benefit from 40% or 45% tax relief, which means £100 into a pension plan can cost just £60 or £55.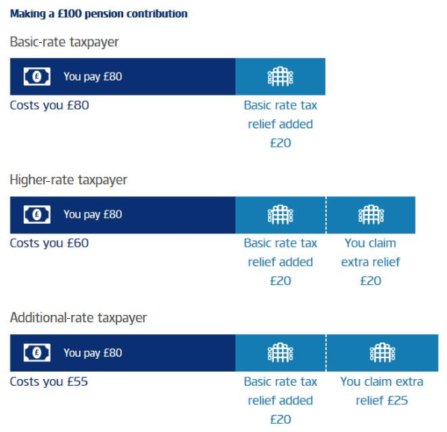 With some workplace pension plans you get tax relief automatically, with others you don't. For example, if your employer deducts your pension contribution before tax is collected under PAYE, you'll get tax relief at your highest rate automatically and you do not need to make any claims through self-assessment.
If this does not happen, you can claim higher and additional tax relief through your self-assessment tax return or by contacting HM Revenue & Customs (HMRC). And tax rates can vary depending on where you live in the UK, for example Scotland has different income tax rates than the rest of the UK.
You can find out more on how to make the most of pension tax relief by listening to our two-minute Q&A or reading our guide.
Read more about this on Gov.uk
Pension savings allowance: It's important to make sure you don't save more into your pension plan each year than your annual allowance. You can normally contribute as much as you earn each year, up to £40,000, and get tax relief on your contributions – and you can 'carry forward' unused allowances from the last three years. But that amount could be less if you're a higher earner or if you have a modern, flexible pension plan and you've started taking money from it.
You can find out more in our tax guides.
2. Make the most of your workplace pension plan
If you have a workplace pension plan, your employer has to contribute to it too. Some employers even offer to match your pension contributions up to a certain percentage; so the more you pay in, the more they will too.
And if you're lucky enough to get a work bonus, you may have the option to put some or all of it into your workplace pension saving you tax and potentially National Insurance too. So it can be a tax-efficient way to boost your pension savings. You can read all about the benefits of doing this is our bonus sacrifice article.
Consider this: Check whether paying your bonus into your pension plan would take you over your annual allowance or lifetime allowance. There's more on these in our Guide to pension allowances.
3. Get your tax-free personal allowance back
Most people get a tax-free personal allowance, which is £12,500 for the 2020/21 tax year. When your taxable income reaches £100,000, your personal allowance is cut by £1 for every £2 of your income. And you lose it once your income reaches £125,000 (in the 2020/21 tax year).
You may be able to recover any loss to your personal allowance by reducing your income through making pension contributions – that way you're making tax savings and contributing more to your future at the same time.
4. How to get your child benefit back by paying more into your pension plan
Worth around £2,500 a year to a three-child family, child benefit is reduced by the High Income Child Benefit Charge when one parent's income reaches £50,000. At £60,000, the tax charge cancels out the benefit entirely.
But there is a way that you could get some or all of it back if your earnings are in this range.
Contributing to your pension plan reduces what counts as your income. And could allow you to keep your child benefit and boost your pension savings at the same time.
Use the government's child benefit tax calculator to work out if you're affected by the tax and how.
Good to know: You can choose not to take child benefit payments if your earnings are over £60,000, but you should still consider filling in the child benefit claim form. This helps you get National Insurance credits, which go towards your State Pension later in life.
You can find out more in our tax guides.
Laws and tax rules may change in the future and your own circumstances and where you live in the UK will also have an impact on tax treatment.
Information here is correct in September 2020 and shouldn't be taken as financial advice.
Pensions are investments. Their value can go down as well as up and may be worth less than was paid in.
If you're in any doubt about your options, you may wish to speak to a financial adviser. There's likely to be a cost for this.