People aged 41–56 feel less positive about their financial situation than any other generation. They also feel least comfortable about their level of savings, and have done the least amount of retirement planning.
A third of people in this age group – Generation X – say their financial situation worsened during the pandemic, the largest proportion of any generation.
These findings are from Standard Life's Consumer Attitudes Report, Bringing retirement into focus: 2021, which surveyed around 5,000 people in the UK in August 20211.
The challenges faced by many Gen Xers seem particularly pronounced for women. Only 37% of Gen X women feel positive about their financial situation. And only 31% of Gen X women feel comfortable about their savings (see Figure 1).
These scores are lower than for any other group, suggesting that female Gen Xers might be in need of particular financial guidance from their employers and the pension industry.
Figure 1: Gen Xers feel least positive and comfortable with their finances and savings2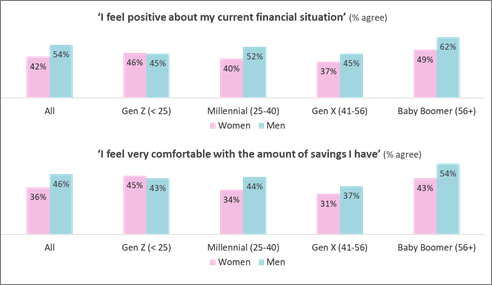 Planning
Only 29% of Gen Xers are confident they are saving enough to have a comfortable retirement – the lowest for any generation.
Fewer Gen Xers also claim to have done a lot of financial planning than any other generation. Only 21% of Gen Xers are doing a great deal of planning – less than the number of Gen Xers (23%) who say they only need to start thinking about retirement planning when they get older.
Of particular concern, only 17% women Gen Xers claim to have done a lot of planning.
So what can we do to help more Gen Xers feel better prepared for their retirement?
Picturing your retirement
The more accurately we can quantify how much money we will need in retirement, the more effectively we can plan and save. The Pensions and Lifetime Savings Association's Retirement Living Standards hope to address this uncertainty.
The recently updated Retirement Living Standards (Standards) allow people to understand their projected pension income in the context of what they'll really need to spend for the lifestyle they want in retirement.
The Standards, based on independent research by Loughborough University, are pitched at three different levels – minimum, moderate and comfortable. They include a series of examples, which show what kind of living standard different people could have in retirement depending on their salaries, household and savings.
How we can help
Standard Life was an early adopter and advocate of the Standards. To ensure we truly embed them, they are now a design principle within Standard Life. This means we look to incorporate the Standards across multiple customer touchpoints.
For example, our new retirement income tool incorporates the Standards so that customers can see how their projected income potentially translates into a future lifestyle, and what they can do to move between the lifestyle levels.
The tool also encourages more customers to explore follow-up actions (for example, consolidate, increase payments or book a retirement webinar) based on what we know about them and how they have interacted with the tool.
We have also used the Standards in the design of our new default investment solution. We've considered the Standards for typical members (based on average salary and contributions), and the level of risk that should be taken at different stages to potentially achieve different levels of outcome.
Additionally, following consultation with the PLSA and comprehensive client and adviser testing, we have incorporated the Standards into our scheme analytics tool.
More broadly, as part of our wider financial wellness strategy, we have introduced an open finance platform for employers and their members: Money Mindset. This helps employers to engage members through all life stages, particularly those who have conflicting financial priorities triggered by key life moments.
1 In August 2021, Standard Life commissioned an independent online survey of nearly 5,000 people from around the UK. We supplemented this with focus groups to explore issues coming out of the survey in more depth. The research looked to cover a broadly representative sample of UK adults aged 18 to 80-plus, covering a range by income, savings, region, gender, ethnicity and other key attributes.
2 Definitions of terms used: Generation Z (Gen Zers): people born between 1997 and 2012. Millennials: people born between 1981 and 1996. Generation X: people born between 1965 and 1980. Baby Boomers: people born between 1946 and 1964.