Online engagement at your members' fingertips
A pension can be a powerful way to save for a sustainable financial future. With the right online tools and platforms, they can be genuinely engaging too. Let us walk you through the experience each one of your individual members can enjoy online.
Before they join - a dedicated microsite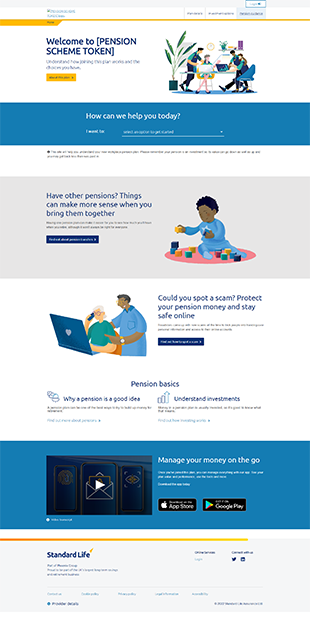 With the potential to be branded with your company's familiar logo and ready to be linked to right from your company intranet, this will be your members' first port of call. Here they can find all the necessary information they'll need to get started with their pension scheme and make an informed decision.
We've improved our microsite design and carried out thorough user testing on these sites . So not only will your microsite provide necessary regulatory disclosures for your scheme, it's also been designed to engage new joiners and highlight the importance of saving for retirement.
Want to see a microsite in more detail?
You can view a demo microsite to get a better idea of how it will work for your members. Please note the information on this site is just for illustrative purposes - in reality, all scheme-specific information like contribution structure, default investment, payment methods and joining options would be tailored to you and the way you want your scheme set up.
What can my members do in their account?
Depending on what you enable, they'll be able to:
Check the value of their plan and see fund performance
Update their personal information
Get a retirement illustration with the retirement income tool
Switch funds
Transfer in other pension plans
Nominate or update beneficiaries
View their real-time personalised video statements
View their policy information including payments and statements
Make a payment
Make a withdrawal from their pension savings (from age 55, rising to age 57 from 2028)
Use Secure Message to contact our UK customer services team
Learn about their pension scheme by using guides and tools
Pension in your pocket - the Standard Life app
With the Standard Life UK app in their pocket, your members can be ready to engage whenever and wherever pension-based inspiration strikes. They can review and manage all their plans on the go. The app is free, and it works with iOS and Android™ mobile devices. Achieving over 4-star ratings on both app stores and nearly 1 million logins a month, we know it's a popular and valuable app and we're sure your employees will love it.
More about member experience