UK inflation has hit a 40-year high of 10.1%, further squeezing people's cost of living. Some practical steps can help to manage the financial and emotional pressures many of us face.
An increasing number of people say that rising costs will affect their financial situation, or have already done so. People are also increasingly concerned about the financial impact of higher energy and fuel prices.
Concerns for all three of these financial pressures have increased since the first quarter of 2022, indicates Standard Life consumer research.
Cutting back
More than three-quarters (77%) of people expect to cut back as a result of rising costs. People with the lowest household income expect to cut back most, while those with the largest household income expect to cut back least.
Still, 56% of people with a household income greater than £100,000 expect to cut back. People aged over-55 are less likely to cut back than younger age groups.
People said they would first cut back their spending or saving on energy usage and luxury expenditure (see Figure 1). Only 6% said they would save less into their pension.
Figure 1: Energy usage and luxury expenditure are where most people would cut back first.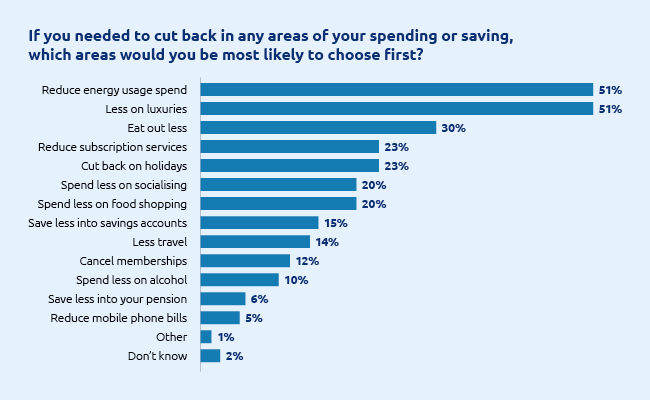 Almost half (46%) of people expect to save less over the next few months. This is more common for women than men (52% vs. 43%).
Levels of expected saving vary considerably by household income. For those with a household income of less than £20,000, 61% of people expect to save less in the next few months. At least half of all people with a household income of less than £50,000 expect to save less.
Practical steps for employees
With high inflation predicted to continue throughout 2022, and potentially beyond, the following tips may help your employees to make their savings work harder.
Revisit your financial goals – As you notice the effects of increased prices, your current financial goals might take longer to reach than originally planned. The Office for National Statistics has relaunched a personal inflation calculator so people can work out their own inflation rate. So now could be a good time to consider if your plans need to change. Establish your individual situation (and what needs to change), including:
How will your income change?
What are your fixed costs and what fluctuates?
What you want to do differently?
Have a direct debit detox – Many of us rack up memberships and subscriptions that we could probably live without, so consider whether you could cancel them or shop around for a better deal. It may be worth looking at your bank statement and identifying five things you could cut down on.
Prioritise your spending – While times are tough, it's worth seeing if you can put off purchases you'd planned for a while longer. However, if you've been thinking about making a big purchase, such as a car or a required home improvement and you have the money to do so, you might find you'd be better off going ahead rather than waiting until later, when prices could be even higher.
Try to clear any outstanding debt – When inflation rises, interest rates are generally increased to help control the economy. If you have any variable rate debt, you might find that your regular payments go up as a result. So, it's best to review debt arrangements as a priority, making sure you are reducing interest being paid as much as possible.
Open up about money worries – More than half (55%) of people don't feel comfortable opening up when they have worries about their financial situation, found a study released by the Money and Pensions Service. This is despite 48% of us admitting we regularly worry about finances. The most common reasons for avoiding talking about money are shame, embarrassment and not wanting to burden others, followed by it causing stress or anxiety. We must have more open conversations about money. By not opening up, we might risk damaging relationships or our own emotional wellbeing.
In this climate of soaring energy bills and rocketing food prices, it's essential for us to remember we are not alone.
The following articles can provide more cost-of-living support to your employees:
Rising cost of living: tips for managing your money
Time to take stock and work on your financial wellbeing
Worried about the impact of inflation on your savings? Here's what to consider