How confident are British people about their plans for retirement? And what's most important to them? In these volatile socioeconomic times, these questions are even more pressing than before.
For the second year running, we've surveyed the views of almost 6,000 people in the UK from all walks of life1. Below is a summary of some of the key findings from our Retirement Voice 2022 report.
The search for income
Since 2021, there's been a sizeable shift in the number of people who feel positive about their finances (down from 48% to 41%).
The biggest change has been among women – who are significantly less likely to feel assured about their current financial situation (down from 42% to 33%).
Overall, people in their middle years (35–54) are least confident, while those aged 65-plus are considerably more positive than any other age group.
Figure 1: Less than half of people feel positive about their financial situation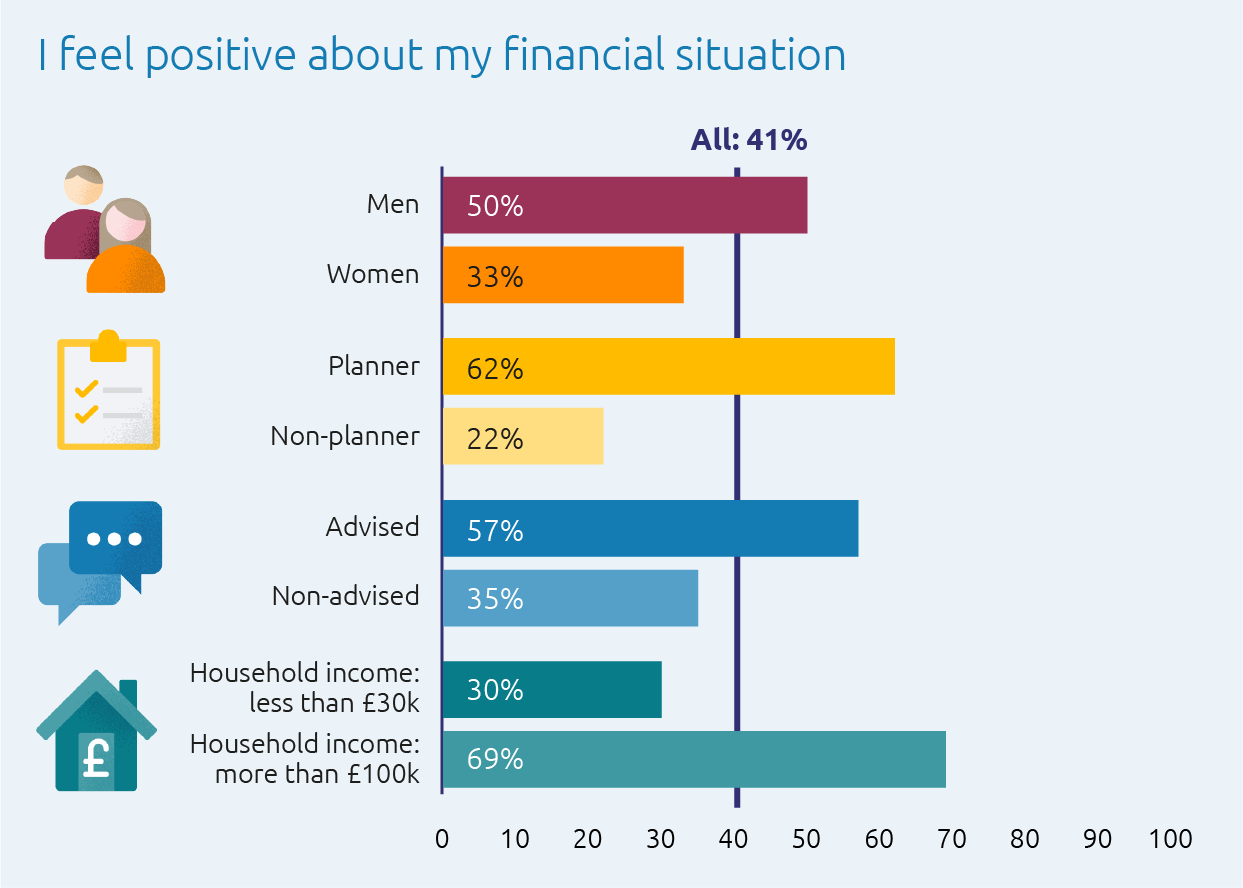 More than half of the people we spoke to (58%) are concerned about running out of money. We're seeing a clear trend in people searching for second jobs, with women, ethnic minorities and those aged between 18 and 44 most likely to be looking for additional employment opportunities.
Meanwhile, more than 1-in-10 of those approaching retirement say that the crisis has caused them to delay their plans. This is true for both men and women. At the same time, 15% of retirees who are over the age of 65 also say they've chosen to unretire.
Personal finances
In these difficult times, most people (78%) would prioritise "certainty of income" when it comes to their retirement plans.
Around two-thirds say that an ideal scenario would involve them having enough guaranteed income to cover their essentials – but with some extra flexibility to cover other spending.
Half of people (49%) say they'd rather limit their exposure to investment risk — even if it means they have less money over the long term. This view is largely shared equally across gender, ethnicity, affluence and whether people take advice or not.
At the same time, around three quarters (74%) of working people want to avoid taking on debt.
Household affluence appears to have no bearing on people's attitudes towards debt. Those with a total household income of less than £30,000 hold the same view as those who have combined earnings that surpass £100,000. Nor is there much attitudinal difference here among men and women.
Retirement planning
For the second year, our research indicates that those who plan for their retirement generally feel better about their finances – and enjoy a better retirement experience.
Our findings indicate that this is true across all levels of wealth. For example, 93% of planners on low incomes2 say they're enjoying their retirement, compared to 66% of non-planners on low incomes.
Additionally, low-income planners are three times more likely to feel very comfortable with the amount of savings they have compared to low-income non-planners.
Despite the benefits, 72% of people are still doing little, if any retirement planning.
Figure 2: More than a quarter of people never review their long-term finances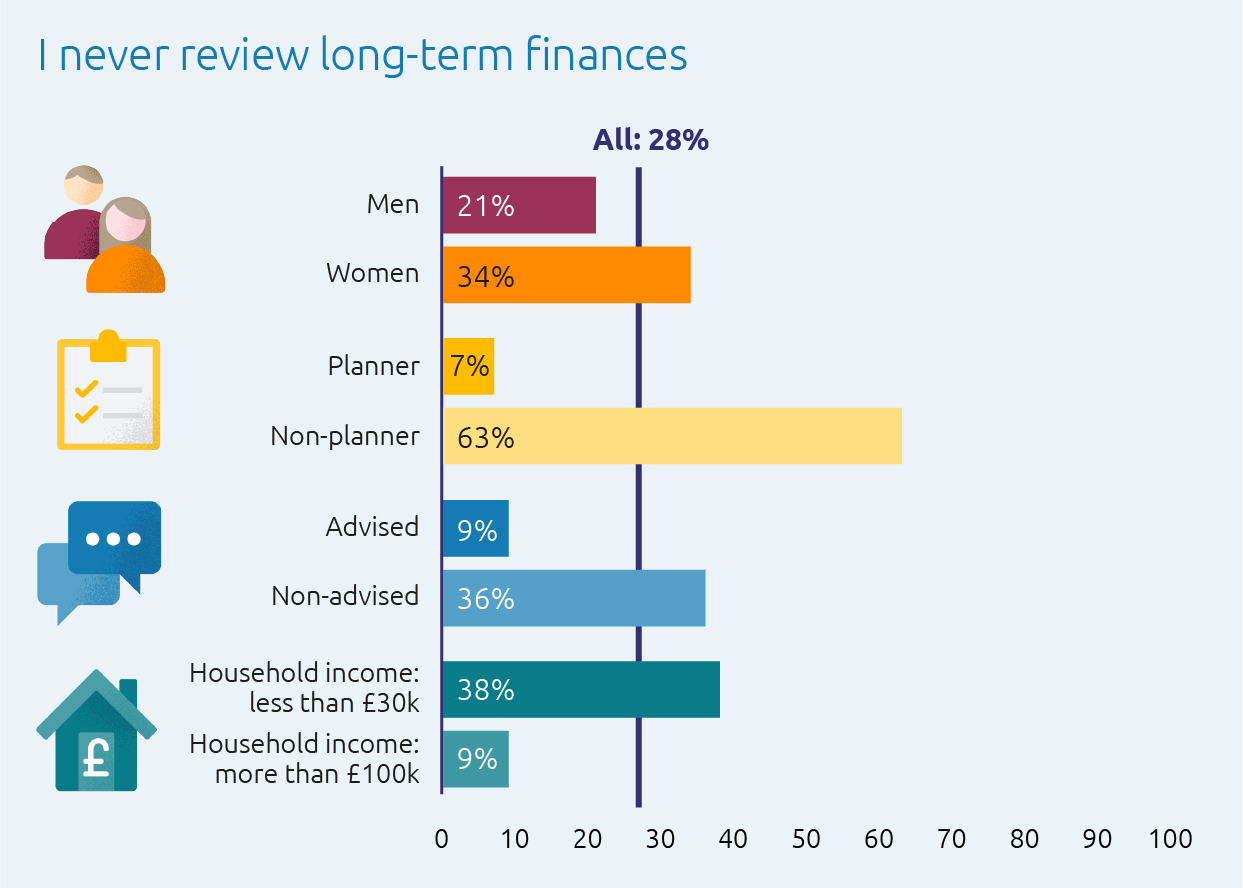 It's clear that more education and support is needed for many people. Our research shows that most people don't feel confident in their ability to make a good decision when it comes to some of the pension basics. This includes understanding exactly what they have, and how they can best manage it.
Lots of people (44%) think it's easy to find information and guidance to help with their retirement planning. However, half of people think the information they come across is overwhelming. And many people (41%) don't know what to do with it all.
Figure 3: People want to know how much money they will have in retirement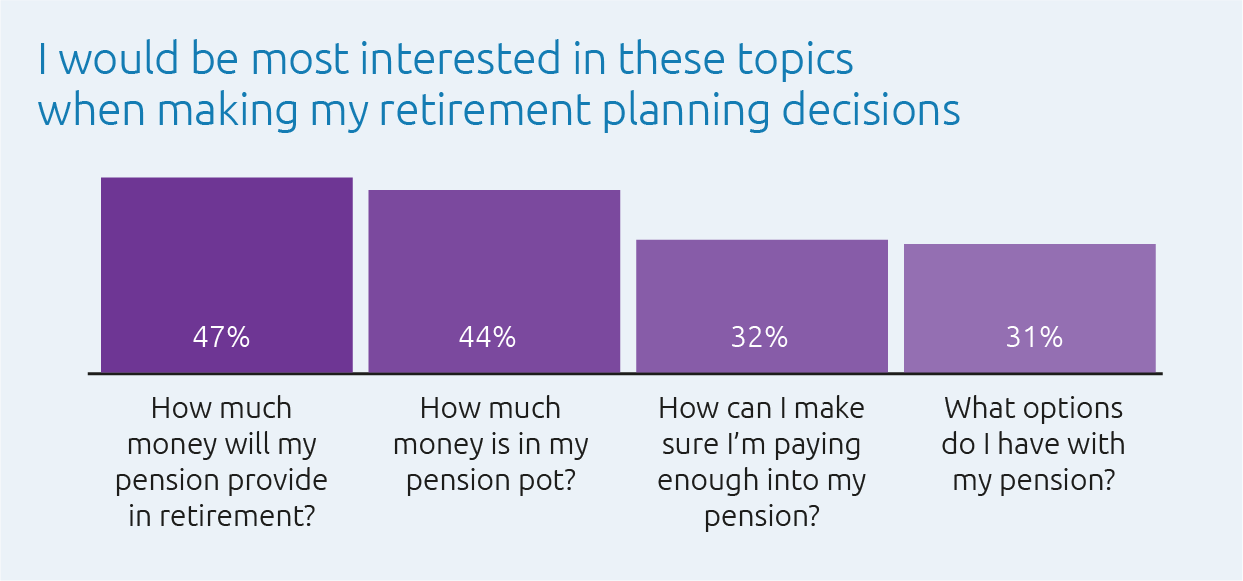 Looking ahead
If we're to champion inclusivity and foster better financial and social wellbeing for all, we must:
1. Address the need for more income and certainty
Most people are looking for more certainty of income, which highlights the need to broaden support. For some, this may be through increasing their working hours or returning to work – placing a greater onus on employers. For others, this may mean accessing more appropriate retirement solutions that are better designed to deliver increased certainty.
2. Encourage people to plan for their retirement
Most people are still doing little to no retirement planning. We also found that there is over-optimism among non-planners when it comes to investment risk, needing certainty of income, and attitudes to debt. We therefore need to promote further the benefits of planning, whether this is through more interactive tools or more targeted communications.
3. Bridge more gaps – not just gender, but also guidance and advice
People continue to feel overwhelmed with what they receive, and less confident about their decision making. It's concerning to see that the gap has widened between genders since last year. We must therefore continue to tailor the support we offer to help women and other underserved groups engage more with their financial planning.
1 In August 2022, Standard Life commissioned an independent study that sought to understand consumer attitudes to pensions and retirement plans. The study questioned a total of 5,980 UK adults, with the data weighted to give a nationally representative sample by age, gender, region and working status. The sample included 1,000 interviews to boost Asian and Black ethnic groups to provide a larger sample for analysis. The research sample included UK adults aged 18–80 and covered a range by income, savings, region, gender, ethnicity, and other key attributes.
2 People who fall into the 'low-income' bracket have a yearly personal income of £20,000 or less.