And the good news is – it's never been easier to start one.
Funding the future
If you're looking forward to a long and rewarding life after work, having a pension can be a great way to fund this.
To make it easier to save for retirement, the government introduced auto-enrolment. This means employers need to provide a workplace pension scheme and make payments for certain employees.
By joining your company pension scheme you're taking a positive step towards the retirement you desire. You'll now be part of a tax efficient, long-term savings plan that not only you save into, but your employer and the government pay into too.
Your pension lifecycle
People are often put off the idea of investing as it seems complicated. However, when it comes to your workplace pension, the process is actually quite simple.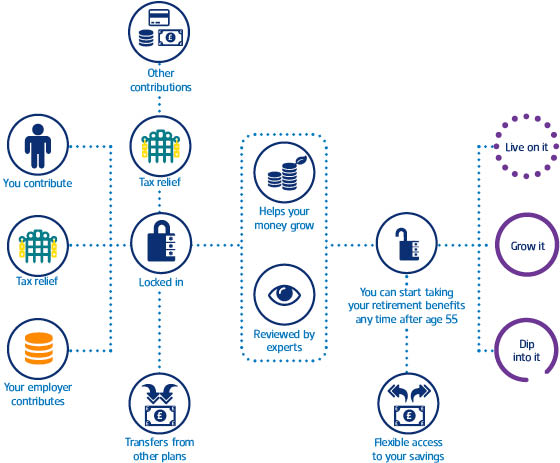 Remember, pensions invest in the stock market and the value of investments can go down as well as up, and may be worth less than what you paid in. However, being a long-term investment product, pensions could be a good way of riding out any storms.
Making more of your savings
As the diagram shows, there are also simple ways you can increase the amount you're paying into your pension. You could consider single contributions or transfers from other pensions, and it's worth noting you don't need to go with just the minimum contribution either.
Combining your pensions
Having all your pensions under one roof could give you one single, good-value plan, allowing you:
One simple-to-manage pension – a single view of what you could get back at retirement and make it much easier to track
Better value – some older pensions tend to have higher charges but if you bring them across you could enjoy the same savings you get with your current company pension.
Combining your pensions might not be right for everyone as some pensions can have valuable benefits attached or built-in guarantees, but it might make sense for you. We'd always recommend checking first.
A cash injection
Saving as much as you can for as long as you can also plays a big role in giving you the lifestyle you would like. And if you can afford to, you should consider saving more.
The more you save, the more tax relief from the government you get – and your employer may even match your contribution level.
There are easy ways you can do this:
Increase your monthly payments – don't just go with the minimum contributions, the more you put in, the more tax relief you receive
Make one-off payments – you can make single contributions into your pension. If you get a windfall such as some inheritance or a bonus, you could invest this in your pension and enjoy tax relief on it if you have the earnings and available allowances to support the contribution.
A flexible retirement
And with the pension freedoms that were introduced back in 2015, you've more options than ever on how you take your cash when you choose to retire.
You can access your retirement savings at any time from age 55 – even if you're still working.
You could:
Use your tax-free cash – take up to 25% of your fund tax free
Take a guaranteed income – receive a set amount of income for life
Use flexible access – choose how much money you take out and when, but you need to ensure it can last
Take it as cash – you can now take all of your pension as a single or a series of cash lump sums
Use a combination of options – it's possible to mix and match what you do with your pension pot at different points in your retirement.
There are advantages and disadvantages to all these options and we'd recommend you do your research first and take advice.
And what if you don't want to be part of your company pension?
Auto-enrolment appears to be working, with the majority of employees choosing to stay in their scheme, research from the Department for Work and Pensions has shown.
Around 90% of employees* choose to stay in their company pension scheme as they see it as a valuable benefit. However, if you feel this isn't for you then you can opt-out. But that means you'll miss out on the contributions which your employer must pay. Your employer only has to contribute if you also pay in.
Food for thought
So if you're looking for a simple, tax-efficient way of funding the retirement you desire, then your employer may be handing you that chance, all wrapped up in one neat, benefit-driven package.
The information in this blog or any response to comments should not be taken as financial advice. Laws and tax rules may change in the future. A pension is an investment and you may get less back than you paid into it.
The information here is based on our understanding in February 2017.