Name and age: Mairi Thomson, 30.

Your job: I'm a Senior Digital Marketing Manager at Standard Life Aberdeen.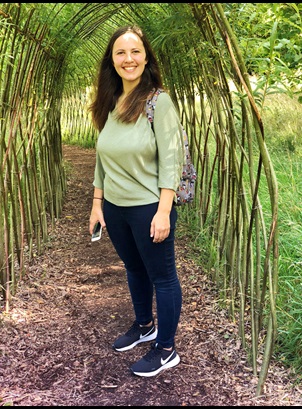 Let's start with your attitude to money in general, and what it means to you.
I'm definitely a saver. I like to feel secure knowing I have a savings buffer if I need it. I find spending large sums quite scary – buying a house was really nerve-racking as it's such a big commitment.
It's been a challenging year. How's your money looking – have you had to change your plans, or how you think about your finances?
Well, I was on maternity leave until February. So up until then, with a baby coming and a new house move too, I'd gone through all my savings. And then of course when I came back, the
coronavirus
hit!
I didn't panic. But it has definitely made me think about money and savings more. And I'd say I do now have a
longer-term view
about it all, because you don't know when things like this will come along and change your day-to-day life. Thankfully, I was fortunate not to be furloughed but if I had been, I would potentially have needed to rely on savings I didn't have.
And I think when you hit your 30s and get more responsibilities, you naturally think more about these things anyway. Stuff like savings, the future and tax planning. My partner and I aren't married, and we know there are tax issues and benefits there, so that's something I do have in the back of my mind.
Are you saving for anything in the short term?
Yes, I'm trying to replenish my savings I burned through last year! Basically, to top up the safety net I had before. So not spending on commuting and loads of coffees every day helps. And I'm not planning holidays or any bigger purchases. I'm definitely in recovery mode, financially, right now.
And where do your pension savings fit in? In terms of juggling that goal versus looking ahead to the future?
It's suddenly a much more expensive period of life, with a mortgage to pay and nursery fees every week. So it is a juggling process. But also, it's a period when you do think more about the future. Having your own kids, and seeing your parents get ready for retirement, makes you aware of the need to think about it all more. Knowing payments are automatically going into my pension pot straight from my salary is reassuring – and some of it's effectively 'free' money from my employer at the end of the day.
How do you manage your pension plan at the moment?
I use the
Standard Life mobile app
. I'm rarely on my laptop outside work, but always have my phone, so it's really easy to check. I just scan my thumbprint and have a quick look.
Do you regularly check in on your pension plan to monitor what's going on?
I don't think about it every day. But I do check it once a month, usually after pay day. Just to keep an eye on it, so I know what's going on.
Has the situation with coronavirus made you check on your pension plan more regularly? Or rethink your long-term money plans?
I learned in the last few months not to check it too regularly as things can change and it could be tempting to panic! But yes, I'd say I'm certainly looking ahead with different priorities now. I'm probably even more aware of the need for a bit of a short-term safety net, and longer-term goals.
Do you feel confident that you know and understand your pension plan? Like how much you need to contribute to aim for the lifestyle you'd like in retirement?
I have a ballpark figure in my head that I think I might need, but not a specific amount I'm working to. But I don't worry about that too much, as I know things will change quite a bit between now and then.
I feel I know I'm doing a bit but I know I need to do a bit more. Sometimes it feels that retirement is so far away in the future that it's not quite real – a bit like when you're young and think "When I grow up I want to be..."
But, like a lot of people my age, my parents are in their 60s now, and they have retired so they have been going through all those considerations about how to make their money last and what they want to do. That does make me think more about what I might need, and what I'd like to do with my life. All the adventures I could have!
When I had a bit more disposable income, I did put more into my pension plan. And if I got a bonus or came into a lump sum, I would probably put part of that away in my pension plan.
Is responsible investment important to you - something you actively look for?
Yes, it is. I trust Standard Life to invest morally and ethically, but I know you need to keep an eye out for companies which you wouldn't want to invest in, and check these things for yourself. I'm definitely becoming more interested in that side of things as I get older and it's in the news more too.

On that note, is being in control of where your money is invested important to you – for instance, being able to have the freedom and flexibility to move it around?
I'm quite interested in investments, so I moved things about a couple of years ago and put more money into slightly higher risk investments. I'm comfortable taking more risk, which I hope will help grow the value of my pension pot. But I'll keep reviewing where my pension is invested and look at new funds that feel right for me, yes. It was easy to do, so I'd do it again for sure to make sure I stay invested in the right types of funds for my plans.
Again, like other people my age, I'm about to inherit a little bit of money, and I need to think about what I do with that and how I want to make it work for me and the family.
Finally, what does life in the future mean to you in three words?
Different. Comfortable. And enjoyable. I want to make the most of my life in the future. And that's why saving for it makes sense.
If you're interested in hearing more about Standard Life's approach to investing responsibly visit our
Responsible investment page.
A pension plan is a long-term investment so its value can fall as well as rise and you could get back less than was paid in.

Laws and tax rules may change in the future and your own circumstances and where you live in the UK will also have an impact on tax treatment.
Any views expressed in this article are those of the interviewee and not Standard Life Assurance Limited.