Travel is really important to me and I'd probably be a better saver if it wasn't for the temptation to fit trips in throughout the year! This New Year I'm travelling to New York via Iceland with my boyfriend and another couple, so that's given me a real focus for saving in 2019.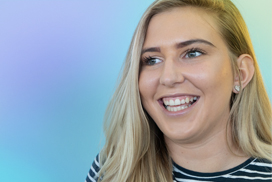 Funding the trip of a lifetime
I'm using Monzo for an everyday account with pots for saving, including one for New York – which really is a trip of a lifetime. With the round-ups from each banking transaction going to my savings, each time I get the train to work that's another 10p towards the trip. I get notifications when I'm half-way towards a saving target and that's pretty encouraging – plus you can lock the pot, if you need to …
It's not been hard to save – I know it's going to be worth it.
Turning a habit into a house
Saving towards a house has taken a little step back this year but we know how much we'll be able to save from next year. Now that we're in the habit, after New York we'll re-direct our saving towards our Help to Buy ISAs. My boyfriend opened his when he heard you won't be able to open a new one after November this year.
We should hopefully be in a position to start looking for the right place from the end of 2020. We know what we want and we're not in a rush.
Money bags
When I started full-time work I was a spender. I went through a phase of buying everything when I realised I had a bit of money – clothes, bags and holidays. I even went to Ibiza for a long weekend.
A close family friend had opened a savings bond for me when I was young and I got access to the money at 21. I bought a Louis Vuitton bag and thought it was the greatest thing.
Looking back, I should probably have kept half of it to treat myself and half of it could have been a good chunk going towards a house deposit. I could have bought the bag in a few months if I'd saved for it instead. I look at that lovely bag now and think – there's my bond money!

Fighting the fear of missing out
When I was younger, whenever I was asked to go on trips or a night out I'd think, "Oh, what if I don't go and they have the best night ever?" so I couldn't say no. Now I'll ask myself first if it's really worth going. I've had to go through a learning curve to get there.
I do still like to go out and I'm less likely to spend on the High Street than I used to. Nowadays I might look at a top for £30 and think that could go towards a dinner out or a holiday or something I won't forget. It's all about the experience.
If someone gave me £100 to do what I want with today ….
I'd probably save half of it but treat myself with the other half. I'd definitely want to enjoy some of it – that way saving doesn't feel so hard. I prefer to save for a bit longer while still enjoying myself – it's just more realistic and easier to keep it up.
Looking to the longer term, I'm saving into a pension and getting contributions from my employer. I'll check its progress maybe once a month online. I'll pay more in soon depending on what else we need money for at the time.
If someone gave me £100 to do what I want with today, I'd probably save half of it but treat myself with the other half. I'd definitely want to enjoy some of it – that way saving doesn't feel so hard.
Talking money and sharing tips
If I was asked for saving tips I'd say open an extra account, somewhere separate to put aside some money where you aren't tempted to use it. It's just there for a rainy day – or something special.
It's good to have people around you who you can talk to about money. My mum has always been a bit like me when I started working – a spender – but my dad has always been good to speak to about money. If I was to borrow £20 he'd want to know what for and why I needed it – I'd have to talk it through with him.
My boyfriend has had to be quite sensible and understand money since he became self-employed, so he's been a good influence on my spending habits. If anything, he's the one reining me in!
*Talk Money Week takes is 18-22 November this year and aims to get more people talking about money and their pension. Visit the Talk Money Week web page for more
The information here is based on our understanding in November 2019 and should not be taken as financial advice. Any views expressed in this article are those of the interviewee and not Standard Life Assurance Limited.
Pensions and Stocks and Shares ISAs are investments, their value can go down as well as up and they could be worth less than was paid in.