1.The personal tax-free allowance is up
The good news is that your personal tax-free allowance rises to £12,500, up from last year's £11,850. With a bigger slice of your income free of tax, this will lead to a small cut in how much tax most people pay.
2.New personal income tax bands across the UK
In England, Northern Ireland and Wales, the threshold for paying the higher rate of income tax of 40% goes up to £50,000 from £46,350. This means some people will pay less tax and fewer people will need to pay the higher-rate.
It's different for those who live in Scotland, where the higher rate of income tax threshold starts above £43,430.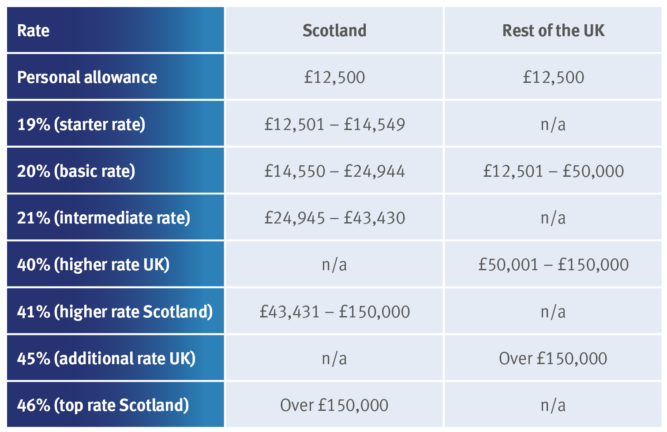 In Scotland, the different bands and rates of income only apply to non-savings income such as earnings, pension income or rental income. Tax on savings income follows the rest of the UK.
3.Saving tax-efficiently: The ISA (Individual Savings Allowance) stays at £20,000
The new tax year gives you the opportunity to continue to save up to £20,000 into a tax-efficient ISA.
There are a range of Cash or Stocks and Shares ISAs to suit most people, and you can read more about ISAs in our 'Happy 20th birthday to the ISA' article.
Why not start saving now and make the most of your ISA allowances early in the tax year? This will give your savings more time to have the chance of growing tax-efficiently.
4. Paying into your pension: Your 2019-20 Annual and Lifetime Allowances
There's no change to the Annual Allowance. You normally get tax relief on pension contributions up to £40,000 a year or 100% of your taxable salary, whichever is lower.
If you've started to take an income from your pension, you may not be able to pay in as much.
In a positive move for those with larger pension savings, the lifetime allowance – how much you can contribute into pensions over your lifetime without needing to pay the Lifetime Allowance tax charge – is up in line with inflation to £1.055m, from £1.030m.
You can find out more about pension tax relief and the Lifetime Allowance in our 2-minute podcasts.
5. If you have investments: Capital Gains Tax (CGT) allowance is up
If you have investments in unit trusts or OEICs (OEIC stands for Open Ended Investment Company), for example, the amount of growth you can take tax-free each year has increased to £12,000, up from £11,700 thanks to an increase in the CGT allowance.
The value of investments can go down as well as up and may be worth less than was paid in.
Laws and tax rules may change in the future. The information here is based on our understanding in April 2019 and shouldn't be taken as financial advice. Personal circumstances and where you live in the UK also have an impact on tax treatment.